Countdown to Zero Hour (Black Ops: Automatik #1) by Nico Rosso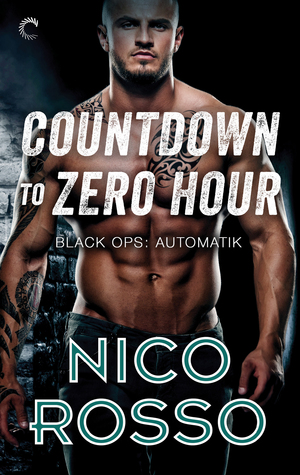 In Countdown to Zero Hour (Black Ops: Automatik #1) by Nico Rosso, Artem 'Art' Diaz has a mission and that's to make the Russian mob boss that destroyed his family pay for his crimes. As an undercover operative, it's been easy gaining the man's trust, giving Art ample opportunity to discover just how he can lead a strike team into the Russian's compound. However, things become complicated when the gorgeous chef he meets one night is forced to work at his boss's compound. Now his number one mission is protect Holly at all costs while still following through on his original mission.
"What if I say no?"
"You can't," he said, like stating a law of the universe.
"Then why ask?" Her legs twitched to stand and run.
"Because I'm polite."
"Barely."
That cracked a small, sad smile from him. Art kept his eyes on the table. "People don't say no to Rolan. The ones who do aren't people anymore."
Holly Baskov doesn't have a choice but to accept a Russian mob boss's offer to be his personal chef for a week, not if she wants to stay alive. Yet, that's not the only reason she's agreed to the job. Her new temporary boss's bodyguard may be lethal and dangerous, but for some unfathomable reason she trusts him to keep her safe, especially when she learns his true purpose for working for such a ruthless man.
What a fantastic start to this series this author has penned, encompassing the mysterious strangers and sexy protector tropes. Right from the start, this story was attention-grabbing and kept me entertained through the fast-paced and action-packed plot, which provided a few twists and turns such as the violence aimed towards Holly that Art is determined to protect her from. And how this story began was thrilling, as it was a real eye opener for Holly into Art's life. He exudes violence, and yet, he makes her feel safe.
"I have a hard time…connecting with people."
"Not with me, though." She placed the peach halves, cut side down, in the brown sugar mixture.
"You're different." Stepping closer again, Art watched her cook. He whispered, "I can be myself."
The dialogue was compelling, and I loved the moments between Holly and Art. The hero seems to relax around the heroine, and it was nice to read that he has a softer side to him. Yet, there's also the fact that he knows he can never let his guard down. Not completely, not even for Holly, if he's determined to protect her. However, the dialogue is also intense due to the edge-of-your-seat suspense surrounding Art's mission, and both the main characters back stories. Art is determined to get his revenge, and nothing will stop him, even when there are unforeseen circumstances that cause him to lose contact with his team.
As for the main characters, both were incredible. Holly is a formidable heroine, determined not to give up in the face of danger. She's never faced anything even remotely as dangerous as a compound full of evil men, yet she's resilient and courageous; prepared to defend herself if necessary. She's also very talented when it comes to cooking, as proven by the numerous compliments she receives. While Art, he's strong and intimidating; a man capable of getting the job done no matter what. The way he protects Holly and reveals things about himself to gain her trust was endearing, because she definitely needs some reassurance that she's safe with him. That he'll do anything to protect her from the danger the secondary characters within the compound represent.
Overall, I really liked this story where the sex scenes were nicely-detailed, and illustrated this couple's strong chemistry perfectly. The ending wrapped this story up nicely, as Holly and Art fight for survival and the heroine finally achieves the dream she has for her career as a chef. I would recommend Countdown to Zero Hour, if you enjoy romantic suspense, or alpha heroes that will do anything to save the woman he's come to love.

Book Info:

Publication: February 22nd, 2016 | Carina Press | Black Ops: Automatik #1
Ex–Special Forces agent Artem "Art" Diaz is tatooed, muscular and undeniably dangerous. He's also deep undercover, posing as mob muscle for a deadly bratva boss. His mission: gain the Russians' trust. Then lead the strike team that will kill them all.
Chef Hayley Baskov knows better than to get involved with someone with such close mafia ties, but the handsome bodyguard who brought her to this cold, sprawling estate full of ruthless mobsters is inexplicably kind. A little firtation may keep her safe amidst the growing menace.
As Art's timetable for action escalates, so do his encounters with Hayley. Stealing what illicit pleasure they can keeps them both sane in the face of evil. But when things get dangerous, Art has to tell her about his assignment, bringing her deeper into the shadowy world of black ops…and putting her life on the line.
Now Art has a new objective: protect Hayley from the man they both call boss.