His to Take (Wicked Lovers #9) by Shayla Black: Joaquin is a dedicated federal agent who is out to avenge the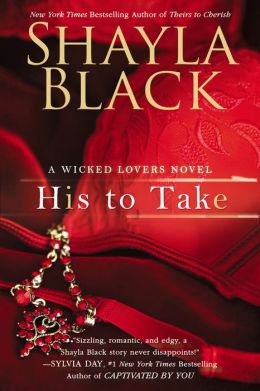 murder of his best friend. Joaquin is also determined to solve the case that resulted in his friends' death, and he turns to his brother-in-law for help despite his deliberate estrangement from his family. This case has Joaquin searching for woman fitting a specific profile who may be the target for a killer and Bailey fits the profile to a T.
Bailey is a really talented ballerina who is focusing on making sure she gets the part in her upcoming audition. She's had nightmares since the age of 5 that she's never been able to understand or explain away. Once Joaquin finds Bailey, he acts quickly to ensure her immediate safety. Bailey is understandably pretty freaked out when she realizes that she's been kidnapped, but she maintains her head.
"If you're such a stand-up guy, why are you drugging an innocent woman-you did drug me, right?"

"Sedated. It wasn't like I spiked your drink at a bar to take advantage of you."

No, he'd just injected her with some unknown substance that left her unconscious for half a day. Because that was so much more virtuous.
The chemistry between Joaquin and Bailey is clear from the very beginning. Bailey brings out the protective, possessive, and caring side of Joaquin. Joaquin finds himself caring for Bailey's emotional health just as much as her physical safety. They both discover a new side of themselves while hiding out at Club Dominion. Bailey and Joaquin were well matched and challenged each other.
"It did! And now you're shamelessly peeking at me like you're the big wolf and I'm your prey."

"I like that analogy. Let's roll with it." He reached out for her.
His to Take is a fast-paced, sexy, suspenseful romance where Joaquin and Bailey are on the run with the clock ticking. While His to Take is a part of the Wicked Lovers series, it can be read as a standalone.
Shayla Black created a strong and intelligent heroine in Bailey who was able to withstand having her life turned upside-down and inside-out by a very intense and protective Joaquin. Ms. Black also incorporated the other couples from the Wicked Lovers series as integral secondary characters. Fans of Lisa Renee Jones and the romantic suspense genre will enjoy His to Take.

Book Info:

Published March 3rd 2015 by Berkley Heat | (Wicked Lovers #9)
Racing against time, NSA Agent Joaquin Muñoz is searching for a little girl who vanished twenty years ago with a dangerous secret. Since Bailey Benson fits the profile, Joaquin abducts the beauty and whisks her to the safety of Club Dominion—before anyone can silence her for good.
At first, Bailey is terrified, but when her captor demands information about her past, she's stunned. Are her horrific visions actually distant memories that imperil all she holds dear? Confined with Joaquin in a place that echoes with moans and breathes passion, he proves himself a fierce protector, as well as a sensual Master who's slowly crawling deeper in her head…and heart. But giving in to him might be the most delicious danger of all.
Because Bailey soon learns that her past isn't the only mystery. Joaquin has a secret of his own—a burning vengeance in his soul. The exposed truth leaves her vulnerable and wondering how much about the man she loves is a lie, how much more is at risk than her heart. And if she can trust him to protect her long enough to learn the truth.