In Feeding the Fire (Rosewood #2) by Andrea Laurence, Hair stylist Pepper Anthony grew up in a trailer with a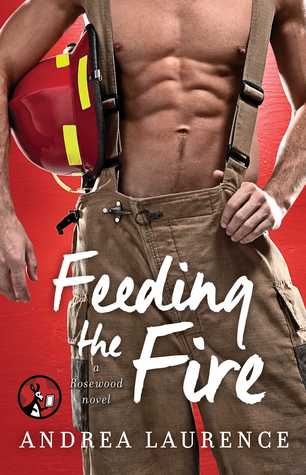 shortage of money, but she's now the proud owner of a fixer-upper with enough cash saved up to start making it liveable. Her plans completely change, however, when she accidentally spends all but a small portion of her funds on Grant Chamberlain at a charity auction. When Grant, the guy who has spent years chasing her, offers to fix her house instead of whisking her away on a romantic date, she begrudgingly agrees. But a full week together in close proximity proves to be more than Pepper can take, and soon things are heating up between them more than she'd ever dreamed.
'She took a deep breath, hoping the calming powers would make her feel better about what just happened, but it was pointless. She had just paid four thousand dollars for a date with Grant Chamberlain.'
Fireman Grant Chamberlain isn't going to waste his opportunity of getting closer to Pepper. He finally has a chance to see if their attraction is just physical, or if his gut instinct is right and they have a special connection. Years of casually playing the field has never given Grant the satisfaction he feels while helping Pepper with her home and watching every emotion pass across her beautiful face. He's never been in a long-term relationship before. But if Grant can get past Pepper's animosity toward his family and figure out the secret she's hiding, he hopes they can start to build a future based on passion and honesty.
"People already know I've been chasing after you for years."

"Like Wile E. Coyote and the Roadrunner," Pepper snapped.

"Yeah," he leaned in to whisper that last part in her ear. "But what they don't know is that the coyote caught the roadrunner once. And it was good enough for him to want to keep chasing her."
Funny and sweet, sexy and charming, Feeding the Fire is a small town romance that is sure to grab your attention and not let go.
Even though there was an edge of mystery to this contemporary romance and family secrets impeding Pepper and Grant's relationship, overall this was a feel-good story that had me smiling and chuckling the whole way through. I tend to gravitate toward small town stories anyway, but this was a very realistically written storyline that had some intriguing subplots and secondary characters. I think the townsfolk drew my attention as much as our protagonists did.
Grant was such a good-natured sweetheart of a guy. I got such a kick out of his relentless pursuit of Pepper. It wasn't stalkerish like in some books. He just had his eyes set on her and knew they'd be good together. I also liked that Grant was so blatantly honest. He turned what was a bad situation when he was a kid into a conscious decision to be an open and forthright adult, not a liar and cheat like some people he knew. Watching Grant go from Rosewood, Alabama's most eligible bachelor to falling hopelessly in love with Pepper was a pretty wonderful–and heartwarming–process.
Pepper was also a lot of fun to get to know. She was a strong, independent Southern woman who knew things would be too complicated if she gave in to her feelings for Grant. Didn't mean she didn't want to. And of course she eventually did cave when he proved himself to be interested in more than just her body. There were a bunch of cute scenes between them that I won't detail so I won't ruin them, but let's just say that Grant should be careful around Pepper when she has mace in her hands, and that the sight of chocolate cake will probably make me blush for a while after reading this. 😉
Do you like sexy & sassy bantering, hunky firefighters, and HEA's that are so sweet they bring a tear to your eye? If so, Feeding the Fire is a perfect match for you!

Book Info:

Publication: March 16th 2015 by Pocket Star | (Rosewood #2)
Pepper has no interest in Grant Chamberlain…until she accidentally wins him at a school auction and finds the mega-hot firefighter impossible to ignore. Find out what happens next in the second playful and sexy ebook romance in the Rosewood series!
Living in the small town of Rosewood, Alabama, hairdresser Pepper Anthony has one rule—never date a Chamberlain. She's always said, "the only thing worse than being ignored by a Chamberlain is being dumped by one." But Grant Chamberlain, town fireman, isn't used to rejection, and Pepper has consistently turned him down since high school. She isn't intimidated by his family; she's one of the few who refuses to take their crap.
When Grant volunteers at the charity bachelor auction, to his surprise, Pepper buys him. She hadn't meant to, but Adelia Chamberlain dropped a cold drink in her lap, sending her leaping into the air at precisely the wrong moment. Suddenly she had a massive bill to the town and Grant at her disposal. Since the money has to come from her "restore the house" fund, she decides to use Grant for manual labor instead of romantic dinners. Grant is happy to help, sweaty and shirtless, because one way or another, he's going to get Pepper to admit she's attracted to him. All it takes is a small spark, and soon they'll be fanning the flames.