His Unexpected Legacy by Chantelle Shaw: Kristen Russell had put Sergio Castellano and their affair well behind her. It wasn't easy, especially when she could see his eyes every time she looked at her three-year-old son. Sergio had made it clear at the time – he didn't want a commitment. In fact,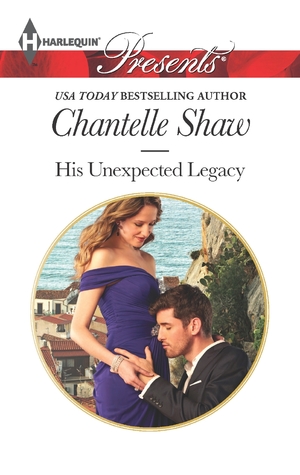 his exact words when he was under the impression she'd lost the baby were "It was for the best". They parted quickly after that, but she just couldn't tell him that she was pregnant after all – she knew he wouldn't care. When he announced his engagement to another woman just after they broke up – she knew she'd made the right choice.
Sergio was furious with his current 'girlfriend'. He didn't consider their relationship serious, but apparently she got it in her head to announce their 'engagement' to the press – and on the day of a gala he was set to attend with her. Not only that, but he was close to closing a huge deal with her father. Quite the sticky mess indeed. When Kristen, who he mistakes for a waitress at the venue tries to talk to him, he can't help himself. He drags her into a room and decides they shouldn't really talk.
Finding her the next day gives him a shock he definitely wasn't expecting. She'd had his child after all, and he'd lost seeing the first three years of his life. He wasn't going to let that continue. He'd be a father to his son come hell or high water, and Kristen didn't get a say in that decision.
After a few HUGE misunderstandings, Kristen sees that Sergio isn't the ogre she once thought him, and Sergio realizes that Kristen is an amazing mother. Now they just have to figure out how to balance being parents while fighting against the magnetism they feel when they're together.
Super steamy but also very touching. You'll probably want to hate Sergio, but as I did – you'll come around in the end. People make mistakes in real life, and it's nice to see that translated on the page sometimes. Solid story, well worth reading.
His Unexpected Legacy isn't for everyone. But if you can see through character flaws down to the person beneath, you will most likely enjoy this story.
Book Info:

Published September 1st 2013 by Harlequin Presents (Book 3175)
Every action has a reaction…
Sergio Castellano is dealing with a scandal of epic proportions. An alleged engagement, the arrival of an ex-lover and a business deal in ruins. Throw in to the mix a three-year-old son he never knew he had? He's furious!
Sergio will do everything in his power to keep his heir, but the longer he spends with the child and his ex-lover Kristen Russell, the more he realizes that the cracks she made in his armor are still there. Now to get what he wants, Sergio must face the pain he's kept at bay for so long….