A Scandal in the Headlines by Caitlin Crews: Alessandro Corretti is convinced that getting jilted on his wedding day and ending up in a fight that left him bruised was the worst part of his day until he stepped on his yacht and found Elena Calderon onboard. The woman he'd felt was his six months ago when he met her at a charity ball, the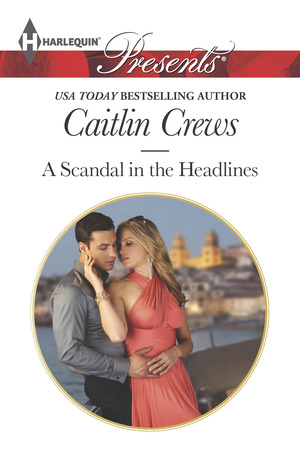 woman engaged to his business rival and enemy. She claims she's been working for him as some sort of holiday before she marries, but Alessandro knows there's more to it than that.
'Niccolo Falco's woman is not welcome here. Not on this boat, not on my island, not anywhere near me. So you swim or you float. Your choice.'
Elena Calderon holds Alessandro Corretti responsible for the ruination of her life in the past six months. Ever since their dance in Rome, the course of her life was changed forever. She has good reason to be working for Alessandro, good reasons that have nothing to do with the things he accuses her of doing. His distrust of her doesn't curb his attraction to her, and Elena is tired of fighting the attraction as well. But will their passion have unintended consequences? Can they channel their explosive chemistry into something more than just sexual attraction?
A Scandal in the Headlines by Caitlin Crews is a book filled with angst. Crews has a great handle on the internal conflicts that drive this book. I was able to see how Alessandro's family legacy and his own darkness plague him, as well as Elena's internal struggle against her attraction to a man she thinks of as ruthless and untrustworthy. This book is filled with "I may hate myself in the morning, but I'm sleeping with you tonight" from both of their perspectives. Crews does a fantastic job of weaving in their insecurities and regrets with the undeniable connection between them.
As I read A Scandal in the Headlines, I felt that there might have been a tad too much focus on their inner conflicts for my liking. I like a little angst in my romance, especially in an otherwise unrelentingly alpha male hero, but I felt deluged with feelings of insecurity, regret, and shame. I know it's the crux of Alessandro's and Elena's problems, much more than the external conflicts, but I felt emotionally off kilter the entire book. As such, it was harder for me to stay interested in Alessandro and Elena's story in some parts.
This is the third book I've read in the Sicily's Corretti Dynasty series. I've become used to my feelings being taken on a rollercoaster ride for the duration. I just couldn't seem to connect as well with A Scandal in the Headlines. I really wanted to love Alessandro (he was ditched on his wedding day for his cousin, for goodness' sake!), but I couldn't fully like him for most of the story. I was waiting for this particular story, of the man who's aborted wedding was the catalyst for all the other stories. Perhaps I set unreachable expectations for it.
A Scandal in the Headlines isn't a bad book. It's well written, with sizzling sex scenes and a variety of emotional ups and downs to keep a reader engaged. I would recommend this book to anyone who likes an emotionally charged read with sizzling love scenes and love (and distrust) at first sight.
Book Info:

Published October 22nd 2013 by Harlequin Presents (Book 3186) | Series: Sicily's Corretti Dynasty
Furious and formidable: to challenge a Corretti… Jilted at the altar, his arranged marriage in tatters, Alessandro Corretti escapes the hounding press and salacious headlines on his yacht, where he can lick his wounds in private.
Aboard his boat, dressed as a servant, is Elena—the woman who tore up his heart six months ago. Elena… his enemy's prize and forbidden to his touch. But at sea there are no rules, and Alessandro will take what he wants.
Yet a Corretti should know that passion has consequences. And if Elena is carrying his child? She'll be bound to him forever.