His Until Midnight by Nikki Logan: Oliver and Audrey met yearly just before Christmas every year. Technically, she knew Oliver for several minutes longer than she had her husband. They all met in a bar, and it was Blake that she chose to date and eventually marry. But Oliver and Audrey became friends, and Blake actually encouraged her to go to Hong Kong for their day together. With Oliver based in Shanghai and she in Sydney, Hong Kong was a good place to meet halfway.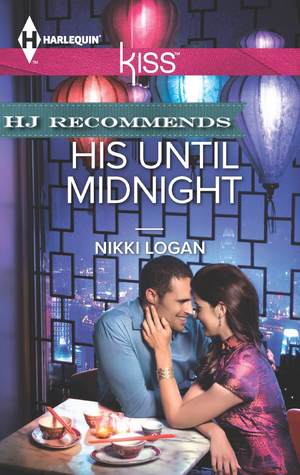 Every year they met in their favorite restaurant, spending the day chatting, sampling the unique tasting menu, and even playing cards with M&Ms as their version of high stakes gambling. As the day draws to a close, both Audrey and Oliver hate to say goodbye. They have a connection, and while neither of them want to acknowledge it, it's there just the same.
Then, two years ago, she stands him up. He's left with a Christmas gift and the restaurant's staff to entertain him. Okay, Blake had passed away that year, but he still doesn't understand why she wouldn't at least explain her absence. This year, he's not going to accept her silence or the lack of her company.
It's easy enough for Oliver to set up a device to get her there, now he just has to figure out what to do with Audrey now that she's available. They've never even remotely discussed what they would be to each other if Blake were out of the picture, but he definitely knows that he doesn't want to let her go.
There are only a couple of problems with that. Firstly, she didn't pick him – she picked Blake, and he needed to know why. Secondly, he had no idea if she even wanted their friendship to continue. And lastly, He was keeping some secrets. Secrets about Blake and their marriage. He wasn't sure how much she knew and how much she'd want to know, but they were obstacles nonetheless.
All he knew was that he had their day together. And he was determined to get some answers.
On the other side – Audrey stayed away last year because she knew she wouldn't be able to trust herself. There were so many ways she could humiliate herself, and she'd had a hard time keeping a lid on things when she wasn't available. Now that she was a widow, she had to protect herself from a man so far out of her league she was sure he'd never noticed her beyond their day of fun each year.
But she'd noticed him. The minute she met him she felt it. The connection that kept her coming back year after year. But Blake was safe. He was attainable. She could be enough for him. Ultimately, she finds out she had misconceptions about both the men in her life, but was it too late?
I know I keep saying this, but the KISS books are just amazing. I got swept up in this story and was immediately drawn in by the main characters. I loved that it started out with them both denying anything other than friendship between them, even though they each knew what was in their own minds. They both have issues from their past that got in the way, but they spend this particular day confronting them – no matter the cost.
Oliver went to such lengths to get her attention, but so unobtrusively that it was adorable. And Audrey simply has no idea that she meant so much to him.
Gorgeous story. Descriptive, engaging, vivid – call it what you like. I call it 4.5 stars.
Book Info:

HJ Recommends
Expected publication: October 22nd 2013 by Harlequin KISS (Book 39)
He could look…and this time he can touch!
Each year, Hong Kong's most kissable businessman Oliver Harmer allows himself one Christmas present: a lavish meal with off-limits Audrey Devaney. Keeping her at arm's length–quite literally!–is a battle of epic proportions for Oliver, but also an irresistible temptation. Until the year she doesn't come.
Now the rules have changed! Because, this Christmas, Audrey is single, and Oliver must decide if he will let her run away at midnight for good, or fight for her to stay until morning!