In Stockings (Whispering Cove #7) by Mackenzie McKade, Skylar Wellington has been known to everyone as Tempest Sky for over five years. When she was sixteen, she ran away from her overbearing and egotistical father and never looked back. She grew up with all the best money could buy because her father is a wealthy politician. She left because the future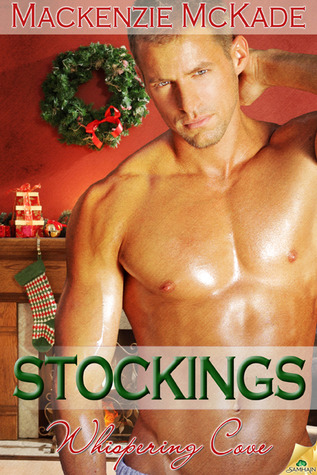 her father mapped out for her, including an arranged marriage, was not what she wanted.
Skylar's best friend and mentor taught her how to create art from blown glass. When she passed away, Skylar continued her legacy by producing beautiful works of art. She traveled from town to town selling her wares from her dilapidated RV. Money was always tight and when the RV broke down in Whispering Cove, she had no clue as to how she was going to afford to fix her RV and move on to the next arts fair.
Whispering Cove is one of those towns where everyone knows your business and a newcomer has to prove their worthiness in order to be accepted. Although her goth attire and makeup works well for a young woman on the run, she sticks out like a sore thumb in this small coastal town. Lucky for Skylar, an elderly gentleman offers her some financial assistance and in addition, she meets the man of her dreams through incredible circumstances.
I liked this story. It is a well-written, heartwarming read that reinforces the societal norm that good, everyday people really do exist. I felt a real connection to all the characters with the exception of Leo, Skylar's love interest. Leo rubbed me the wrong way from the very beginning.
Unfortunately, I did not feel Skylar and Leo's chemistry, so their love scenes did not add any zing to the plot. This story takes place around Christmas time, which only adds to the kindness to others theme.
Book Info:

Publication: November 26th 2013 by Samhian Publishing, Ltd. | Whispering Cove, Book 7
Where there's smoke, there's trouble.
Whispering Cove, Book 7
Tempest Sky has forgotten how to stop running, but when her RV breaks down on the way to a huge Winter Craft Show, she has no choice. Repairs require cash. Getting it means setting up shop on the spot to sell her hand-blown glass.
It's not too surprising that one of Whispering Cove's finest has a problem with that. Behind the sexy cop's sizzling scrutiny, the truth is loud and clear. "Her kind" isn't welcome here.
Officer Leo Caan can smell trouble a mile away, and it's rolling off Miss Sky like the smoke from her RV's blown engine. The crowds gathering around her impromptu studio are a public nuisance. Privately, her sassy, bold sexiness is an uncomfortable surprise. If he didn't know better, he could swear he's attracted to the woman.
Yet every time they meet—and clash—it's like water on hot glass. Pure steam. And it's a clear signal for the town grandfathers to gear up for a little holiday matchmaking…