How to Kiss a Cowboy (Cowboys of Decker Ranch #2) by Joanne Kennedy: Even though this was the second book in the series, it stands alone and will not loose the reader.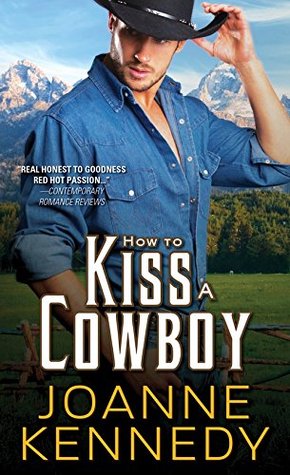 Brady Caine has it all, buckle bunnies, looks, endorsements, luck on the rodeo circuit, but what he is missing is a reason for doing what he is doing. Then, after one night with Suze Carlyle, everything begins to change and Brady begins to wonder if he has finally found his purpose in life.
Suze Carlyle has been in love with Brady Caine since the first time that he let out a rebel war yell when she was 16, and she has held that love close to her heart. When Brady gets her the opprotunity of a lifetime, she wonders why he would go to the trouble. But when a stunt gone wrong leaves Suze broken and battered, Brady will stop at nothing to help her find her way.
I really loved this story. It was humorous, sweet, sassy, sexy and had just the right amount of angst to keep the story going. The HEA for these two lost souls was really sweet.
I would recommend How to Kiss a Cowboy by Joanne Kennedy to anyone that loves a good cowboy story, with a HEA that will have you throwing a Rebel War Woop.
Book Info:

February 3rd 2015 by Sourcebooks Casablanca | (Cowboys of Decker Ranch #2)
Between rodeo wins and endorsement deals, Saddle Bronc Champion Brady Caine is living a charmed life. But when he causes an accident that could end a promising barrel racer's career, he decides that he's done with loose women and wild rides. All he wants to do is erase his mistake by getting Suze Carlyle back in the saddle.
The last person barrel racer Suze wants to see on her doorstep is the man who ended her rodeo career, but she can't help admire Brady's persistence. Sparks fly between them, but when her barn is sabotaged she wonders if he's really the straight shooter he seems to be…