How to Lose a Lord in 10 Days or Less by Elizabeth Michels: If you are in the market for a historical with a light touch and an unconventional heroine, then "How to Lose a Lord in 10 Days or Less" is the book for you.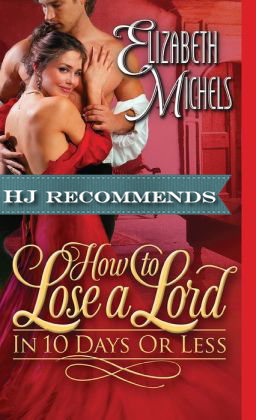 Andrew Clifton, Lord Amberstall, is heading back home after a year of self-imposed exile in the wilds of Scotland with only sheep to keep him company. Not far from the Scottish border he realizes that he is being followed, and confronts the blackguards, who he imagines to be thieves. Outmanned, he flees on is beloved horse Shadow's Light, jumps a hedgerow, and crashes, right into the pottery wheel belonging to Katie Moore, daughter to the Earl or Ormesby. The pottery wheel is destroyed, Andrew is shaken, Katie is indignant, and Shadow's Light is severely injured. Since Katie helps Andrew by sending the highwaymen away, she demands that she be allowed to nurse Shadow's Light back to health, despite the fact that Andrew believes that his injury is one that the horse ought to be put down for. Although Andrew is desperate to get back to his estate, he gives in to Katie, and agrees to stay at Ormesby Place while she tries to nurse Shadow back to health.
Katie is a most unconventional female. She wears breeches, boots and shirts, her hair in a loose braid, and carries a walking stick because she has a limp. Katie lives more or less by herself in a cottage on the grounds of her family estate, having moved out of the family home after her mother left home when she was a pre-teen. She is bold and outspoken, but shy and lonely. Like Andrew, a year previously she had a tragedy, a horse accident that left her mentally scarred and physically damaged, although her injury is largely healed. Andrew finds her puzzling, intriguing, and lacking in all the graces he thinks that a female ought to have. He is appalled at the state of her stables, doesn't understand why she doesn't any manners, and is yet irresistibly drawn to her.
And yet there was something about her smile and a slight sadness to her light green eyes that made him wonder. He wasn't even sure what to wonder over, but the blasted chit wouldn't leave his thoughts.
Andrew is one of those men who are book-boyfriend worthy. He's very handsome, a good son and not afraid of hard work. He's a little conventional, with firm ideas of "what ladies like" and "how ladies should behave" which means that dealing with Katie turns him right around. In Elizabeth Michels' two others books in the 'Tricks of the Ton' series, Andrew is pompous and a bit of a jerk. It obvious pretty early in the book that his year in Scotland has done his personality marvels, and he has a very satisfying developmental arc during this novel.
Katie is unusual, and is aware that she hasn't fit in since she was a child. She doesn't expect to ever find love, and to live her life alone in her cottage. However, as insufferable as Katie finds Andrew, she also finds him compelling, and is highly attracted to him. Katie seems like she would be fun to be with, and it's amusing to see her try, and abandon, her many 'keep Katie busy' projects that litter her cottage.
All in all, the entire book is pretty amusing, and there are some laugh-out-loud moments that I really enjoyed. There are some bad guys, who are really very bad, suspense, adventure, and even some reconciliation that occurs that is quite nice. The only wrong note for me was around a rather forced misunderstanding situation which probably wouldn't happen in real life, but which causes hot-headed book characters to stomp off in a huff.
"How to Lose a Lord in 10 Days or Less" is a fun, pleasant read, and a recommended read. Although the third book in the 'Tricks of the Ton' series, it can stand alone, but if you're like me, you'll be searching out Elizabeth Michels' other book to find out more about the secondary characters and their intertwining lives!
Book Info:

Published July 1st 2014 by Sourcebooks Casablanca
"I want to know you, to understand anything at all about you, because you are the most maddening lady I have ever encountered."
He's the perfect gentleman…
After years hidden away from the mockery of the Ton, proud Andrew Clifton, Lord Amberstall, is finally ready to face Society again. But when his horse is injured on the road to London, Andrew finds himself literally thrown at the feet of the beautiful, infuriating, and undeniably eccentric Katie Moore.
…she's anything but a lady.
Katie always preferred the stables to society, so when she was badly injured in a riding accident, she was more than happy to retreat to the countryside and give up the marriage mart for good. She never expected an infuriatingly proper lord to come tumbling into her life – and she certainly never expected to find herself wondering what it would be like to rejoin the world at his side.
They couldn't be more different, and soon Andrew and Katie find themselves at odds about everything but the growing passion between them… and a keen awareness of a threat that may end their unconventional romance before it has even begun.