In How to Rope a Real Man by Melissa Cutler, Jenna Sorentino was the town's bad girl during her teenage years and is no stranger to a reckless life. But life has it's surprises, and when it surprised her with an unexpected pregnancy she had to change her ways. Now she is 24 years old with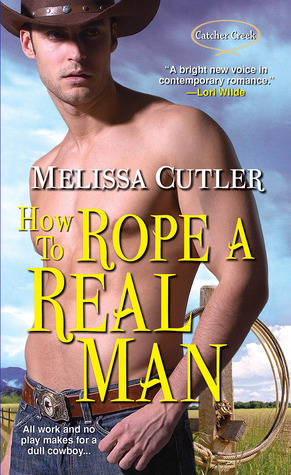 a 5 year old son. But even though she is closer to her sister than she ever was before, she is still keeping secrets from them.
Matt has had a crush on Jenna for the last 8 months, but he doesn't date single moms,which is keeping him away from her in that regard. He knows the pain of falling for the little ones, only to have to say goodbye once the relationship with their mom is over. Even though he doesn't want to fall for Tommy, Jenna's son, he already has a soft spot for him which makes him vulnerable and scares him witless that he will get hurt again.
The more time Jenna and Matt spend together, the more Jenna wants him, and Jenna always goes after what she wants. She wants to get out of Catcher's Creek and move to Santa Fe, but before she takes the step she plans to get Matt first.
The romance between Jenna and Matt is a little slow moving, but sometimes slow is better for a long lasting relationship for two people that have secrets and are afraid to take certain chances. Jenna, Tommy and Matt make a great family, but first they have to let go of their fears and the past that is holding them back before they can move to a future together.
For a fun, sweet and entertaining read, don't miss How to Rope a Real Man by Melissa Cutler.
Book Info:

May 6th 2014 by Zebra
Against all odds, the Sorentino sisters saved their family's rundown New Mexico ranch, but the youngest has a dream that just may ruin their hard-earned peace—unless a certain sexy cowboy lawyer changes her mind…
Jenna Sorentino is as independent as they come. Despite her wild past, she's grown up enough to keep quiet about the identity of her baby's daddy, go to night college—and hide her plan to escape tiny Catcher Creek. She's also stopped dreaming of happily ever after—except in the case of gorgeous, rugged, Santa Fe native Matt Roenick. Too bad the oil rights attorney acts like he barely knows she's alive…
Matt knows only too well that Jenna's alive—in fact, she's driving him crazy with desire. But Matt's got his reasons for resisting her. And when her son's father shows up, those reasons multiply. Trouble is, Jenna's secrets are more complicated than he imagined, and forgetting her isn't as easy as he'd hoped. Matt knows life can be messy as hell. For Jenna, maybe it's time he got dirty…