In Mortally Yours (Argeneau #26) by Lynsay Sands, Rogue Hunter Beth Argenis is as independent as a woman can get. Before being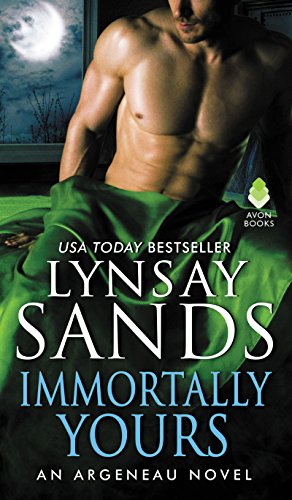 turned immortal, her life taught her to look out for herself and that unfortunately men more often than not will harm or take advantage of a woman. The one man who seems to be forever in her personal fantasies but always in the doghouse is Cullen "Scotty" MacDonald. They've had a weird, antagonistic relationship since he saved her shortly after Beth was brutally turned and they've spent over a century bickering and arguing. Now Scotty says she's his life mate. And she's not sure if he's disgusted by her in general or by her past, but it seems if he truly wanted her then he would have claimed her decades ago. As confusing as her feelings are for the former Scottish Laird, Beth is more concerned with finding out who is trying to kill her and harming everyone around her. But when Scotty continuously puts his life on the line for her, she realizes he might be serious about her after all.
'It seemed she'd be working with Scotty a bit longer. Ah well, she could think of worse things than having to work with a six-foot-three sexy beast of a Scot. He might be annoying at times, but he was always pretty to look at.'
Scotty spent centuries fighting and hunting down rogue immortals along with his trusted friend Magnus. But he always felt something was missing. When he realized Beth was likely his life mate, he wasn't sure if it was a blessing or a curse, given her past when she was mortal. Unable to reconcile it with the way he was raised, Scotty left Beth to her own devices for the most part over the last century. Although he was always in the background trying to keep her safe, without her knowledge. One unbelievable kiss with her is all it takes to throw his life into turmoil as he finds himself trying to get over his own prejudices as well as prove to Beth that he *does* want to claim her as his life mate. The stakes are increasingly risky, though, as her life is threatened over and over until Scotty makes the unfortunate discovery of who is behind everything.
"I love ye, Elizabeth Sheppard Argenis. I love ye, and everything about ye, and I'll thank God and the nanos and the universe itself everyday o' me life fer gifting me with ye fer a mate."
Exciting, comical, and passionate, Immortally Yours was another winner from Lynsay Sands in her popular Argeneau series. But what else would you expect from an old fashioned former Scottish Laird as the hero and a brave & fierce heroine with a sketchy past?
"Why are you doing this? You don't even want me."
"Aye, I do," he growled, and then to prove it, he caught her arm again, this time to drag her forward and cover her mouth with his.
I have such fun with Lynsay Sands' books but the Argeneau series is probably my favorite out of everything she's done. (Although her historicals are a riot as well!) I have a soft spot for paranormals anyway, but the way she mixes humor in with deeper emotions and pairs up characters in unexpected situations, it's magic. And in Immortally Yours we had a couple who seemed quite different on the surface but when it got right down to it, they were a beautiful match. Well, once the hero finally got his head out of medieval times and into the twenty-first century. He made me a bit grumbly a few times. Grrrr… But we did learn that there was a reason for Scotty being so narrow-minded when it came to his life mate Beth's past.
Beth and Scotty had a ton of fireworks between them, both in their chemistry together and the way they bickered and fought verbally. I loved that she stood up for herself and what she needed in a relationship, that she wasn't willing to be with someone who was ashamed of the life she was forced to lead as a mortal. And what a heartbreaking life Beth had. Whew. Her upbringing–and her being turned into an immortal, actually–isn't for the faint of heart. But it was so wonderful to see how she had finally accepted all of what she'd been through and that Beth loved herself as she was now. And after gobs of misperceptions and misunderstandings between her and Scotty, I think her finally being comfortable in her own skin is what ended up helping him accept her past as well.
Aside from a few boneheaded moments, Scotty was actually a really cool hero. Sexy Scottish accent. A warrior at heart. Protective of those he loved. How can you not like that? Do I think he should have admitted to Beth that he knew they were life mates decades earlier and given her the chance to make some decisions about it? Yep. But I understood that Scotty wanted to keep her safe and let her heal from the savage way she was turned. I did love watching him fall in love with Beth once they started to really get to know each other and it made the threats against her that much more intense, knowing that Scotty would no doubt put himself in harm's way for her. That whole part of the plot kept me guessing a bit and although I kind of figured out who was after Beth, I didn't realize the full scope of why.
Taking place while the majority of the Argeneau clan was in South America hunting down an evil doctor, Immortally Yours introduced (and reintroduced) us to some interesting immortals. I think fans of the series will love this installment and will be clamoring for what Sands has planned for us next.
Book Info:

Publication: Expected publication: September 26th 2017 | Avon | Argeneau #26
Irresistible chemistry and thrilling suspense combine in this electrifying new installment in New York Times bestselling author Lynsay Sands' Argeneau series
One hundred and twenty-five years is a long time to nurse a crush. That's how long it's been since Beth Argenis first met Cullen "Scotty" MacDonald and he instantly became the star of her most X-rated dreams. Back then, he was rescuing her from a Rogue Immortal. Now Beth's a Rogue Hunter—a damn good one. She doesn't need saving anymore, despite what Scotty thinks. What she does need is the fierce, wild desire that finally erupts between them.
Scotty has hesitated to claim Beth as his own. But one explosive kiss confirms what he's long suspected: She's his life mate. But Beth is tough, fearless, beautiful…and in immortal danger. Unless he wants to lose her forever, he'll have to rethink everything he once believed about love and destiny as well as confront an enemy who's terrifyingly close.