It's Gotta Be You by Luann McLane: Oliver loves performing in front of crowds and was disappointed when both the family boy band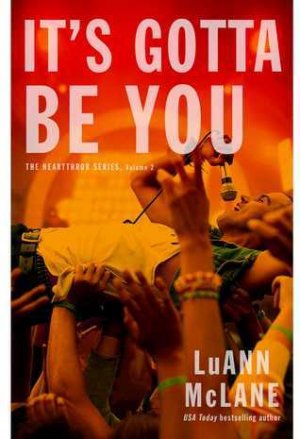 quit and when they didn't resume touring after their reunion show years later. As the youngest, he wasn't ready to stop quite yet. Now he's working out how to start over as a solo artist and if he really wants all that goes along with the music again.
Belinda was already chewed up and spit out by the music industry when she tried to return to her country roots as a teen. Due to family circumstances, she's ready and desperate to resume her pop-star career if that's what it takes. She's headstrong, sassy, loyal, and quick to jump to conclusions.
As teens, Oliver and Belinda faked a romance to help their careers. Both felt the attraction then and neither chose to act on it. Oliver's management wants to rekindle their fake romance to help jump-start both careers. Oliver, who is known to overthink decisions, wanted time to consider until Belinda just shows up and moves in.
"Calm down."
"Don't you know that telling a woman to calm down is like throwing gasoline on a fire? Put. Me. Down!"
"No." Oliver shook his head. "Just wrap your arms around my neck, Belinda. Trust me, I won't drop you."
"Someone saying' 'trust me' is another red flag of mine."
Turns out their chemistry is back and stronger than ever as they get to know each other all over again. They banter and flirt in Oliver's gorgeous beach house while considering their next moves. A fling sounds like a great idea until they grow closer than expected.
"Oh crap, I forgot to put on shoes."
"This is Florida. No shoes, no shirt, no problem."
"Then why are you wearin' a shirt?" she asked with a bit of sass.
"Good question."
It's Gotta Be You is a funny and sexy reunion. LuAnn McLane developed characters who are in many ways complete opposites, but nicely complement each other. Ms. McLane created a strong and engaging cast of characters, including their respective families. Fans of Erika Kelly and Kimberly Lang will enjoy It's Gotta Be You.

Book Info:

Publication: October 9th 2017 | Pocket Star | Heartthrob #2
Meet the Heart Brothers: formerly the members of the cult-phenomenon boy band Heartbeat, now they're all grown up and back together for one last reunion tour. Trends may come and go, but a group of sexy brothers with a penchant for song and dance never goes out of style…
After the success of the Heartbeat reunion, Oliver Heart wants a shot at a solo singing career. But you don't get famous without publicity so he decides to agree to fake a romance with former pop sensation Belinda Beal, who is desperate to revive her career or face financial ruin. Oliver and Belinda are already experts at playing this silly game with the paparazzi back in their glory days and definitely hate the public displays of fake affection. But it isn't long before pretend romance begins to lead to more in this rollicking romance featuring LuAnn McLane's "lovely, sweetly sexy, terrifically enjoyable" (Booklist) prose.