Imprisoned by a Vow by Annie West: Bartered into marriage isn't exactly every girl's fantasy, but it is for Leila. Marriage to Joss Carmody, as imposing as he seems, means escape. Most of her life was spent in fear from her stepfather, but the last two years were the worst.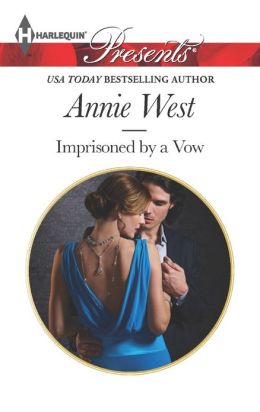 Joss is a self-made man. Money wasn't scarce when he was growing up, but he learned very early not to depend on anyone. His mother was all about appearances, his father was cruel, and his sister ran away and left him with nobody to lean on. His only alternative was to abandon them in adulthood and make his own way. While that suited him just fine, he needed help with his oil interests, and the land Leila would inherit upon marriage fit the bill.
Leila found that leaving her home wasn't as easy as she thought. Not because she wasn't eager, but because of the crippling fear she encountered at almost every turn. Everything was an issue. Large spaces, small spaces, rich food, even freedom. Meanwhile, Joss was confused by the contradictions he saw in his new wife. The dowdy clothes versus the class and sophistication she oozed, her natural ability to charm people versus her fear of going out. He needed to nail down what was going on or he wouldn't be getting the benefits for which he negotiated.
Joss finally finds out about Leila's past, and discovers he cares for her more than he'd like to admit. He takes it upon himself to ease her into a normal life, and in doing so he realizes that the feelings he's having about the woman he married are more than he bargained for.
This story was quite deep – with both of the main characters having pretty daunting demons. Leila, despite the horrors she lived through was a very strong and determined woman. And Joss – while he had prejudices towards women and family – turned out to be easily swayed into loving Leila. The ending came quite fast, but it wasn't unsatisfactory. Nice read.
Book Info

Publication Date: July 23, 2013 | Series: Harlequin Presents (Book 3165)
Signed, sealed…forever!
Being sold into marriage by her stepfather is Leila's one chance to escape. But instead of freedom, Leila finds herself bound by deep passions ignited by her inscrutable new husband.
Australian billionaire Joss Carmody knows the rules of this game—he'll shower his new wife with diamonds and in return he'll use her land to expand his business. That's all he ever wanted from this exchange, but he hadn't banked on the attraction Leila awakens.
Then the one night that was supposed to slake their desire, binds them beyond the signatures on their marriage contract….