Lovegame by Tracy Wolff is erotic, thrilling, and completely mind-boggling.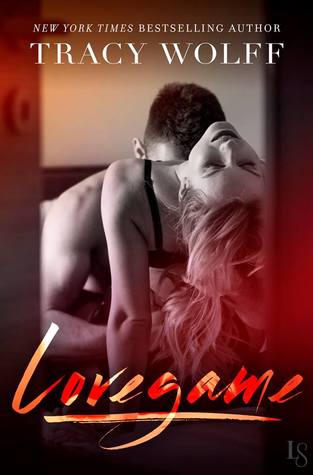 The story revolves around a former FBI profiler turned crime novelist, Ian Sharpe, who is doing an in-depth interview on one Hollywood's provocative actresses, Veronica Romero. Veronica has just finished filming an intense role as the murderess, "Belladonna". The movie is actually based on Ian's best-selling book on the murderess but Ian is looking is looking for something specific in his interviews. He wants Veronica's secrets and in doing so, will help him find answers about a different serial killer, one who knows Veronica specifically.
Ian and Veronica's relationship starts off intense and stays that way for the majority of the book. Ian and Veronica both want control. Veronica plays to her strengths, using her sex appeal to get what she wants. Veronica doesn't let anyone see the real her. She lets people see the actress and not the person, but Ian wants more. He wants to see the real Veronica and sets out to unravel her. Both characters are hiding secrets and skirting the truth while playing the game of cat and mouse.
The book is something you need to read in one sitting and it messes with your mind as you try to figure out what exactly is happening. Ian and Veronica are both damaged and have their own past they are trying to run from, but eventually running is no longer the answer and they must confront their past to make way for a future together.
Veronica is a very strong female character. She's been in the business for a while and knows what is expected of her and how to get what she wants. She's also damaged but doesn't let it get to her. She's even forgiven one of the people responsible for the horror she experienced when she was eight years old. Someone who was supposed to protect Veronica above all. I'm not sure how Veronica did it, but there is no way I could forgive that. Veronica really has a big heart and just wants someone to love her and in return, save her.
Ian is intelligent, witty, and doesn't let Veronica get her way. It's very clear from their very first meeting, that Veronica and Ian had chemistry.
"I am completely in his thrall, lost in the fire of his possession. Taken. Overwhelmed. Dominated."
They are explosive together, but it's very clear they need each other. Ian has his own demons he has to deal with, but it's very evident that he wants to protect Veronica and be there for her when no one has been.
Overall, this is a must-read for anyone who enjoys suspenseful romance and doesn't mind the instant-lust-love trope.
Book Info:

Publication: June 7, 2016 | Loveswept |
True Crime novelist Ian Sharpe has spent his career writing about serial killers for very personal reasons. For his latest exposé, he is taking on the sadistic madman known as the Red Ribbon Strangler, and when his research leads him to Hollywood's most private and provocative actress, he will break every rule to uncover her truth.
The daughter of one of Hollywood's golden couples, chased by paparazzi and treated as a commodity her entire life, Veronica Romero wields her sex appeal like a weapon. She expects Ian to be as easy to control as every other man she's ever known. But from the beginning, he refuses to fall into line. Mysterious and cool, challenging and just a little bit dangerous, Ian somehow makes her feel safe—even as he digs into the deepest secrets of her life and pushes her to the breaking point.
As raw ecstasy gives way to agonized truths, their dark obsession exposes secrets that have been buried for far too long. Ian wants to tear down her walls and heal the sensual woman underneath. But if Veronica's learned anything, it's that the line between pleasure and pain is a narrow one—and when caught between them the only thing that matters is how you play the game.