Dating the Guy Upstairs by Amanda Ashby: Riley loves her job at the library and she's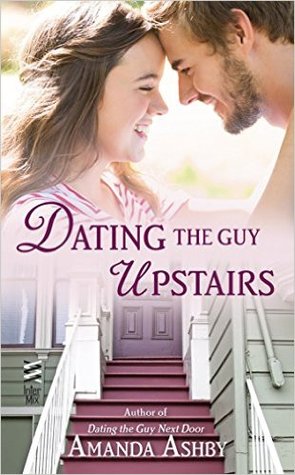 hoping to get a promotion. She also has a problem with telling people "no" when they ask for a favor, which is how she ends up babysitting a guinea pig. After the example of her parents who tend to flit from thing to thing and person to person, Riley needs the stability of her home and job. She'd rather read about romance than actually have romance in her own life.
Will is dedicated to helping out those who have less and he does a lot of necessary volunteer work overseas. It also achieves the goal of staying away from his ambitious father and his ex-fiancée who just so happens to be his stepmother. The only thing Will looks forward to upon returning from his many trips would be hanging out with his best friend and renter, Riley.
Will returns from one of his many trips just to attend his brother's wedding. Since he has no desire for any potential matchmaking efforts, he decides that Riley would be the perfect companion to serve as a buffer and act as his fake girlfriend. He has no time for a real girlfriend, so Riley is his best and only option.
"I've got no idea what you were thinking," Riley said, not liking the way he was studying her lower lip as if it was something to be owned. "What kind of rehearsal?"
"Everything. Holding hands. Looking longingly into each other's eyes without laughing. What side of the bed we prefer to sleep on. And how we kiss."
Things get a little more complicated when they begin to see each other in a new light. Suddenly, they start to notice their best friend as a very attractive member of the opposite sex. Their fake relationship quickly escalates into something very real. They do have a great foundation to build on and they know each other so well.
"Riley, this is going to sound crazy, but would you go on a date with me tonight?"
"We're co-parenting a guinea pig, have been in a fake relationship for the last week and have just made out in the stacks of my library. I think going on a date is the least crazy thing that we've done," she said before giving him a shy smile. "I'd love to."
Dating the Guy Upstairs is a sweet and entertaining friends to lovers tale. Amanda Ashby created two characters who want nothing to do with romance and manage to find something unexpectedly special. Ms. Ashby created colorful characters and interesting families. Fans of Jamie Beck and Kat French will enjoy Dating the Guy Upstairs.
Book Info:

Publication: June 21st 2016 | Berkley InterMix |
Young librarian Riley Harris has always maintained her independence, leaving the drama of love to anyone silly enough to fall for it. Her Jane Austen novels are as close as she cares to get to "true love." Luckily, her handsome upstairs neighbor—and landlord—Will Henderson feels the same way.
Since his ex-fiancé crushed his heart, Will devotes himself to charity in an effort to atone for the misdeeds of his wealthy, ruthless father. So when Will needs a date for his brothers high-society wedding, he asks Riley to be his faux girlfriend.
After a spontaneous kiss throws both Riley and Will for a loop, they find themselves fighting their mutual pride and prejudice against love. And when Riley is rocked by something from Will's past, both will need to decide whether to follow their heads or their hearts…