Maid of Dishonor by Heidi Rice: I have to say that again, HQ KISS doesn't disappoint. I'm utterly in love with this line, and this series in particular. "Maid of Dishonor" is the third full-length story in The Wedding Season series. This entry deals with the Awesome Foursome's British member, Gina.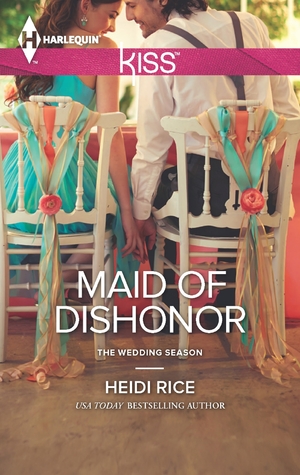 We learn that Gina and Marnie had a massive falling out ten years prior in the story so far, and boy – it was a doozy. Marnie's brother Carter was engaged to be married to his high-school sweetheart, but that didn't stop him from falling into bed with bad-girl Gina a week before the wedding. Since Marnie and Carter's bride-to-be were friends, she takes the news of his infidelity particularly hard. She also kept Carter firmly atop a pedestal, which made blaming him – even in part – almost impossible. Therefore, the burden lay firmly on Gina's shoulders.
After their night of indiscretion, both Gina and Carter lived through some hard times. For Gina, the night had turned out to be much more complicated than just a roll in the sack – and Carter suffered through a disastrous marriage to a woman he never really loved. That same event made the relationship between Carter and Marnie difficult as well. Although I got the sense that things between brother and sister were already starting to become strained before the rift formed from his tryst with Gina.
When Carter shows up in New York to meet with Marnie, it comes at just the right time. The bookish Awesome, Cassie, is preparing to marry Tuck (See "Girl Least Likely to Marry") and Gina decides to make things right with her estranged friend. Gina sees a text sent to Marnie from her brother, and it prompts her to see him and try to mend that fence as well.
Well, you can probably guess what happens next. Their attraction is just as explosive and addictive as it had been all those years ago, and rekindling their fling isn't only inevitable, it's unavoidable. I could almost feel how magnetically attracted they were to each other and it was heady indeed. The love scenes were pretty steamy, especially their first encounter in the present in New York City.
They have a few problems though. Gina tries to keep her fling/relationship with Carter from Marnie again, hoping not to restart the feud between them. Gina has also lived through a lot of trauma resulting from their first time together and keeping it from Carter becomes very difficult. Carter also has issues that he isn't proud of, and revealing them to Gina would make him vulnerable – which isn't comfy for him in the least.
I really enjoy how these authors are weaving parts of each other's stories into their own, like seeing one of Cassie's nerdy t-shirts, or the tension between Dylan and Mason. It's good that they feel cohesive and encompassing. I'm hoping that some of this story will bleed into the next one. The Carter/Marnie brother/sister thing wasn't resolved, and if it picks up where it left off here, that would be *really* good.
"Maid of Dishonor" is sooo very close to being a five star book. I would've liked to see more discussion about the fallout from Carter & Gina's night ten years ago. Gina in particular went through a lot, including therapy to get over it – so more detail about resolution between them would've felt more complete. And the dichotomy between Carter's relationship with his employees and the way he treats Marnie is also unsettling. I hope his coldness gets a little more backstory in the next novel.
Overall, I can't recommend the KISS line highly enough. They're just the right blend of sweet and hot – and that makes for pretty great romance.
Book Info:

Published August 20th 2013 by Harlequin Harlequin Kiss (Book 29)
When she's very, very bad……
Gina Carrington knows exactly how to have fun! But when she sleeps with her friend's brother, the off-limits Carter, she quickly discovers she's overstepped the mark.
……life is so much more fun!
Years later, Gina sees Carter again to prepare for her friend's wedding, and she can't help but wonder what the harm would be in one more night…. He's available, gorgeous and behind that laid-back Southern charm there's a wild side even she can't tame! But Gina has secrets which she can't hide forever—will their chemistry be strong enough to keep Carter by her side when her secrets come to light?