Mister Moneybags is not what I normally expect from Vi Keeland & Penelope Ward, but I don't mean this negatively because I loved it. It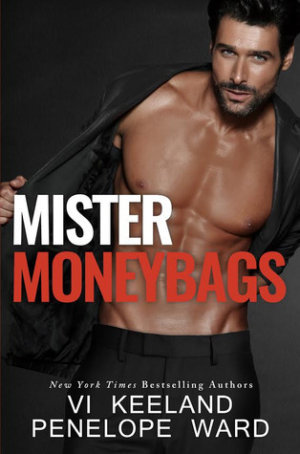 is a slightly sweeter story for this amazing author duo but it is also still sexy, romantic and witty as anticipated. They are a great team, and I hope they continue to collaborate… frequently.
Bianca has a preconceived notion about the wealthy, successful businessman Dex Truitt, and she calls him Mister Moneybags and this isn't implied to be a compliment. She's not thrilled with the assignment to interview him for the newspaper she works for, but she is excited to land what is considered a big story.
Bianca and Dex meet prior to the interview without her realizing she's meeting Moneybags. They hit it off in a big way, but Dex decides to not keep his identity a secret after Bianca reveals her disdain for Dex. He wants to pursue a chance with her.
Things get really complicated for him when they meet (again) as Dex via online chat for Bianca's interview and these two hit it off too. Now he has to maintain dual identities and deal with Bianca possibly falling for two men. He is smitten with her, and he's the sweet factor I spoke about. Sex is cocky and little alpha but also adorable as he falls for her. He gets trapped in his deception, which could be the reason he loses her.
Dex makes some swoon-worthy, romantic gestures to win her over, and I kind of fell in love with him. I think you will too. Don't miss another phenomenal read from Vi Keeland & Penelope Ward.

Book Info:

Publication: 4/9/17 | Everafter Romance |
I met Bianca in an elevator.
She was on her way to interview me when we got stuck.
The beautiful, raven-haired reporter assumed I was a delivery guy because of the way I was dressed.
She had no clue I was really Dex Truitt, the wealthy, successful businessman she'd dubbed "Mister Moneybags"—her afternoon appointment.
Bianca told me how much she hated Dex's type—snobby, over educated, silver- spooned men who didn't appreciate the simple things in life.
So, after the elevator finally started moving again, I cancelled the interview and let her believe I was someone I wasn't—a bike messenger named Jay. I loved the way she looked at the fake me and didn't want it to end.
I began dating her as "Jay"—all the while letting her interview the real me over email.
I didn't expect that our chemistry online would be just as hot.
I didn't expect the mess I'd gotten myself into.
I didn't expect that Jay and Dex would fall in love with her.
And she was falling for two men.
Only, both men were me.
And when she found out, we were both going to lose her.
Nothing could have prepared me for that day. And I certainly wasn't prepared for what came after.
All good things must come to an end, right?
Except our ending was one I didn't see coming.