Royally Roma by Teri Wilson: Niccolo is tired. He's tired of being the good, reliable prince who does all of the work and travel while his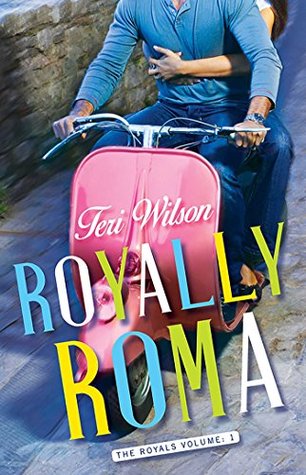 brother is off creating scandals he has to clean up. He always puts duty and family first, but he badly needs a break. It doesn't help that he's charming, sexy, a gentleman, and constantly hounded by the press.
Julia loves all things historical. Living in Rome where she's surrounded by the sights and history are ideal for completing her graduate studies. It also helps that no one really knows who she is and she can just be herself. She's making a living by giving guided tours where she can delight and entertain with her vast knowledge.
Niccolo is ready to return home. He's on the end of his European tour and looking forward to being home again. But when the latest crisis comes up, he jumps at the chance to escape his royal duties for a day to play tourist with Julia. She captivates him from the first moment as she's a breath of fresh air. It really helps that she has no clue just who he is and treats him like a man instead of a prince.
She seemed to be struggling not to smile. "Fine. Although I don't believe for a minute that you'll be on your best behavior."
"Let's be honest. We'd both be disappointed if I was."
Their memorable day together is filled with ups and downs. Julia has been burned before by men, so she doesn't exactly trust Nico. He's private, moody, and makes her heart race like no other. They banter, flirt, and fight while seeing the sights. Despite the mistrust, their connection grows when their day unexpectedly gets extended.
"Look, if you're running from the law, you need to tell me. I won't turn you in or anything, I promise, so long as you pay me what you owe me. But I can't have you spending the night at my flat if you're some kind of serial killer."
"Says the kidnapper." He winked.
"I can't believe you're flirting with me at a time like this."
Royally Roma captured my interest from the beginning. Teri Wilson created a charming and entertaining story with lots of anticipation for this slow burn romance. Ms. Wilson provided engaging characters in a well-paced story. Fans of Kris Fletcher, KC Dyer, Heather Cocks, and Jessica Morgan will enjoy Royally Roma.
Book Info:

Publication: March 27th 2017 | Pocket Star | The Royals #1
In this charming, modern retelling of the classic Audrey Hepburn film Roman Holiday, a royal prince tries to escape his hectic and rigid life and ends up leading a young graduate student on a chase through the Eternal City.
Julia Costa is too busy trying to complete her PhD while also holding down a full-time job as a private tour guide in Rome to keep up with celebrity gossip. So when she crosses paths with a real, actual prince, she mistakes him for a client and takes him on a daylong tour of the city.
Intrigued by the idea of spending time with someone who obviously has no idea who he is, and delighted at the prospect of a day free of royal obligations, Niccolo La Torre, Crown Prince of Lazaretto, acts on impulse and assumes the role of Julia's client. He swears to himself that he'll return to his royal duties after only half a day…but he's having the time of his life.
Until Julia presents him with the bill. Since he snuck out of the hotel without so much as a dime, he tries to escape, only to discover that she won't let him out of her sight until he can pay her back. She's determined to get her money…and perhaps more from the handsome stranger she's fallen for.