In Moonlight Kiss by Luann McLane, after two very public broken engagements, Addison is more than ready to escape the spotlight. What better place to go than Crickett Creek, where her uncle and cousin live? Having sworn off men, Addison plans to stay and visit her family for a couple of weeks.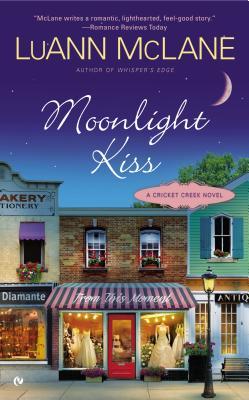 Sometimes though, despite every intention, fate has a way of stepping in. Within days of arriving in Crickett Creek, Addison decides to stay and open a bridal shop. After all, who better to plan weddings than her? Addison also meets Reid, an investment consultant who has come back home to help run the family farm. Reid has big plans and good intentions, none of which include having the wedding venue on the farm that his sister wants. Reid has no intention of staying permanently in Crickett Creek and he is not looking for a relationship.
With Addison's help, Reid's sister is going ahead with her barn wedding idea…and Addison and Reid are seeing a lot more of each other. Despite their different ideas and different backgrounds, soon a connection neither was looking for and some great chemistry will prove to them that sometimes you find love when you least expect it. But Reid doesn't like to take risks…and loving Addison might be the greatest risk of all, especially when her past reappears and Reid jumps to conclusions that could hurt their blossoming relationship. Addison swore off men and relationships, can she risk her heart one more time?
In Moonlight Kiss, Luann also weaves in a secondary romance with Maggie (a Realtor) and Rick (Addison's former fiancee's father). This relationship adds even more dimension and depth to an already great love story…I found myself just as interested in seeing where things with Maggie and Rick would go…if Maggie can forgive him his deceptions…
I love a small town romance, and Luann McLane sure gave me a good one with Moonlight Kiss. I really enjoy the interactions of all the (meddling) secondary characters and watching romance bloom in small town Crickett Creek. Reid and Addison were both strong characters who, despite their pasts and issues, were very easy to relate to. Despite Addison's mother being famous, Addison stays out of the spotlight and I really like this about her. Even with a famous family, their relationships with each other could be the same with any family…fame did not seem to influence who they were. The only part I found unrealistic is moving to a small town and within days opening a business on the spur of the moment. Reid was really stuck in his ways, believing his way is the right way…I think being back in Crickett Creek is good for him, whether or not things with him and Addison work out. He's starting to open his eyes to see that what works for him might not work for others, and he's respecting that. I felt like Reid probably had the most personal growth in Moonlight Kiss, and he really grew on me.
Moonlight Kiss, although part of a series, can definitely be read as a stand alone book (I have not read the other books in this series). Moonlight Kiss will give you love, laughter and hope! I'd recommend this to any romance reader looking for just that!
Book Info:

Published November 5th 2013 by Signet | Series: Cricket Creek
Cricket Creek, Kentucky, is a sweet river town known for its baseball, shopping, and cuisine. After finally rebounding from the recession, the residents are ready to repair their lives—and their hearts…
After two very public broken engagements with two very famous men, Addison Monroe is ready to avoid the spotlight. She decides to put her wedding planning experience to good use by opening a bridal boutique. Setting up shop in small town Kentucky is the perfect way to escape prying eyes and live a quiet, single life.
Investment consultant Reid Greenfield is fed up with weddings—and not his own. He's certain his sister's plan to turn their family farm into a wedding reception venue will lead to bankruptcy. Reid hopes that city girl Addison will be an ally in getting his sister to change her mind before she loses her savings. Instead, Addison adores the idea and jumps on board. It's a risky business—especially once romance gets involved. But sometimes a little risk brings a huge reward…