Thawing Ava by Selena Illyria: Ava and Brice met in college through Ava's brother Davis. Brice and Davis were roommates at the time. When Brice was sick with the flu during their holiday break, Ava nursed him back to health. For a about a week or so, they spent every waking moment together and developed a quick, trusting friendship. Unfortunately, exploring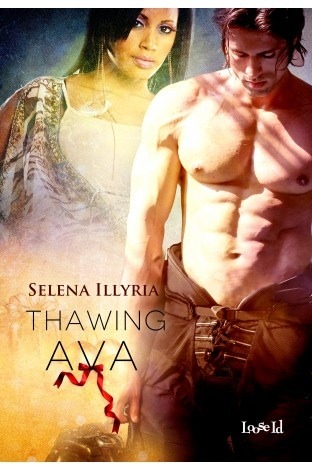 their sexual chemistry never materialized. They attempted to stay in touch when the spring semester began, but nothing ever came of it, which saddened them both. Over the years, Ava and Brice thought about each other with both fondness and anguish, especially during Christmastime, yet never understanding why each others calls and emails remained unanswered years ago.
Now they are together again and it is the holiday season. Brice is a hockey player, playing for the Witch Fields Prowlers, a team that is partially owned by Ava's father James. Brice is out of control and needs a babysitter, someone that will take care of him and keep him from clubbing, drinking and womanizing. He needs to stay focused on hockey, so that he and his team can remain successful, in order to have a chance of making it to the playoffs. Luckily, Ava is available because she recently broke up with her cheating fiance and is in between careers.
Sparks ignite the minute they see each other again, however, Ava is determined to keep things platonic and just do her job. Brice wants her in his bed, at his mercy, so as a result, he is slowly breaking down her barriers. Mind-blowing sex is just the tip of the iceberg, a future together is what they both really want.
This is a nice read and I especially liked Brice's character. His dominant and flirty personality is completely charming, without being forced. His alpha side is a real turn on as well as the BDSM elements introduced by the author. I found Ava to be a little blah and uninteresting, yet her warmth was addicting. The heat between Ava and Brice is scorching, which is reason enough to read this erotic romance.
Thawing Ava by Selena Illyria is another erotic romance surrounded by the good tidings of the holiday season. What makes this book stand out from the other seasonal offerings I have read so far, are the years the couple led separate lives, while simultaneously thinking about each other from time to time. Absence certainly makes the heart grow fonder.
Book Info:

Published December 24th 2013 by Loose Id LLC
Hockey player Brice Douglas has never gotten over the Christmas he spent with Ava Johnson back in college. Now, years later, he's in trouble with his team, the Witch Fields Prowlers. Desperate to keep their rabble-rousing player's head in the game, they hire a babysitter to keep his ass out of a sling and home in his bed at night: Ava. He's determined to make up for lost time, while convincing her he's not the man the team made him out to be, using every dirty, sexy trick he can.
Ava just got out a relationship with a cheating fiancé. She needs time to rebuild her life and babysitting her old college crush maybe the answer to her prayers–so long as sex isn't involved. Yet, with his sexy nightly self-pleasuring sessions and dirty talk her resistance quickly starts wearing thin. With every day that passes, she's growing more comfortable with him and his desire for her.
Will she be putting Brice on ice, or will he end up thawing Ava?