In More Than a Touch(Snowberry Creek Series #2) by Alexis Morgan, Leif is in Snowberry Creek to help his friend with some home renovations in their fallen comrad's home. He himself was injured in the same attack that killed their friend, and he feels guilty to have been the one to survive. While Leif is in Snowberry Creek he is also working on his own physical and mental recovery…but will he recover enough to return to the military? All Leif has ever been is army.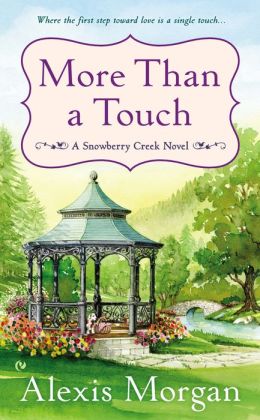 That is his family, it's what he feels a part of. With his troubles coping and PSTD, the last thing Luke needs is to get wrapped up in the emotions of a relationship on top of everything else.
Zoe is a Nurse Practitioner working in small town Snowberry Creek. Zoe was also in the army and has the mental scars to prove it, even though she hides them well and isn't coping as good as it would appear on the surface. Zoe loves Snowberry Creek and has every plan to stay there. When she first meets Leif at their mutual friends home, the attraction between them is immediate even if they do brush it off and try to ignore it. When as part of Leif's rehab Zoe ends up being his NP, that only confirms that there can be nothing between them. She has no intention of mixing business with pleasure. He's a patient and he's not staying. "…he needed to get his life back on track, and she still carried too much baggage from her past."
But their attraction won't go away, and a friendship could blossom into so much more. Especially when Zoe is no longer involved in Leif's rehab. The passion is there between them, even as they each struggle to find their way through the nightmares. Zoe knows Leif has every intention of leaving again, but maybe a short term relationship will be enough…no strings and no heart break. But in the end, will that be enough for either of them? With Leif moving on with his rehab and surgery on his leg, will he come back to Snowberry Creek? What then? Can either of them put some of the ghosts to rest or will they be haunted forever?
More Than a Touch is a very heart felt, emotional story of two people not only forming a relationship but trying to adjust to life on the 'outside' of the armed forces. The romance and the growth of the relationship has a slow, easy pace throughout More Than a Touch, which I felt was very suitable for the story being told, it allowed it to be developed very well. Both Zoe and Leif were realistic people who will capture your attention and your heart. Alexis makes it easy to get wrapped up in their story. I really enjoyed the character growth that both of them experienced. In particular Leif, who starts to see more to life and what makes him whole. Leif will really steal your heart. Zoe was a bit more mysterious and harder to get to know which made you only want to know and understand her more.
There are great secondary characters and stories in More Than a Touch…not enough to overwhelm, just enough to add that much more to a great story. Snowberry Creek has that small town feel of caring and nosiness that can be so much fun to read about too.
With her smooth writing and great flowing story line, Alexis gives us a romance with a lot of emotional depth in More Than a Touch that I would recommend to any romance reader.
Book Info:

Published January 7th 2014 by Signet | Snowberry Creek Series #2
In the town of Snowberry Creek, there is always hope….
Wounded in combat, Leif Brevik is haunted by survivor's guilt. For the first time in his life—unsure if he still has a military career in his future—he feels completely lost. So when a war buddy calls for help with restoration of their fallen brother's house, he jumps at the chance to regain a sense of purpose.
Zoe Phillips is assigned to monitor Leif's physical therapy while he's in town. But she's a former military nurse, and she senses that his wounds are more than just physical. As she pushes the handsome soldier to open up, the connection between them deepens beyond the professional facade she tries to maintain.
And as Leif begins to put down roots in her beloved hometown, Zoe realizes that maybe having him around is exactly what she needs to heal her own wounded heart as well….