Not In Her Wildest Dreams by Dani Collins is a story of second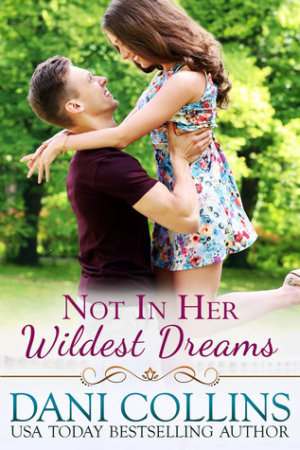 chances. Tension between the Roy's and the Fogarty's, families from opposite sides of the tracks, came to a head when Sterling Roy and Paige Fogarty were caught making out by her father. The result was Sterling getting beat up and Paige gaining a bad reputation. Both left town but now are back with no intentions of staying.
Paige's father, who is a partner in Roy Furnishings, has had a heart attack and wants out of the partnership. Sterling's father wants him out as well, only Paige is determined to make sure her father receives a fair payout. She demands an audit, one that Sterling's father forces him to help with. As they spend time together they realize they realize they still like each other, only there are plenty of obstacles standing in their way: the hostility between their fathers, the hostility between Sterling and Lyle, who is Paige's brother, and someone has targeted Paige.
I enjoyed Paige's character. Despite the fact that fifteen years later the town is still talking about her, judging her, she still keeps her head up. When people pressure her to give up the audit she carries on, taking the proper steps to ensure her father is adequately compensated. I also felt sympathetic towards her as well. She's recently divorced, her best friend is pregnant with her brother's baby but dating another man so she feels caught between the two, and her brother is battling alcoholism.
Paige wondered what it said about her life when the best news of her day was that her brother was checking into rehab.
I liked adult Sterling but the younger Sterling not so much. He could have stopped the rumors that ruined Paige's reputation but he didn't. He was convinced he was set up by Lyle and possibly Paige to get caught by their father. Instead of trying to get the truth, he made assumptions that hurt Paige and had her running from town. Sterling does his best to make up for the mistakes from when he was younger, but he also still seems not to trust any of the Fogarty's.
There's some suspense as Paige is targeted by an unknown person. I thought it was obvious who the culprit was but it took Paige and Sterling a bit longer to figure it out themselves. Still, considering there wasn't an overabundance of drama in the book, it was a nice addition to have some action thrown in.
Not In Her Wildest Dreams is about returning home and getting a second chance to make things right. I would recommend it for anyone who enjoys a good second chance romance.
Book Info:

Publication: January 15, 2017 | Smashwords Dani Collins |
Paige Fogarty never believed Liebe Falls' golden boy, Sterling Roy, could want a No Good Fogarty, but one magical night, they kissed—ruining her already murky reputation. Fifteen years later, she's still shunned, now as a professional accountant auditing Roy Furnishings. It's a daunting task even before she's forced to work with him.
Sterling made a fool of himself over Paige once. Never again. He only returns to the factory his mother calls his 'legacy' to ensure Paige doesn't pull a fast one. When their chemistry blazes hotter than ever, he wonders if he misjudged her, but secrets come to light, including an embezzler she tries to protect, proving she's still the wrong girl. So why does holding onto her feel so right?