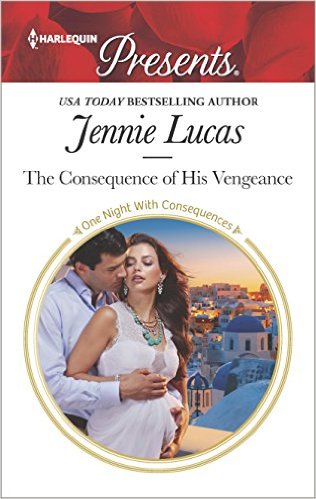 In The Consequence of his Vengeance (One Night with Consequences #27) by Jennie Lucas, it's been ten years since Letty Spencer and Darius Kyrillos have laid eyes on each other. But the second Darius receives word about Letty, he confronts her determined to get his revenge for what she did to him all those years ago. Except his goal of enticing, seducing and then rejecting Letty doesn't go as planned, especially since their night together was supposed to be just one night. However, Letty ends up pregnant. Can they overcome the hurts of their past to achieve a second chance at love, or will they hurt each other too badly to be able to try again?
Straightening, he held her hand tightly in his own. "I want to see you tomorrow, and every other tomorrow for the rest of our lives."
"Darius…"
"You will marry me, Letty," he said in a low voice. "You know it, and I know it. In your heart, you were always meant to be mine."
What a powerful and emotional read Ms. Lucas has penned in this story, which encompasses a number of tropes including: marriage of convenience, surprise pregnancy, revenge and second chance. From start to finish, this book had me hooked due to this couple's past where Darius was hurt by what the heroine did to him and all he wants is revenge. To cause the heroine the same sort of pain he's endured all these years for reasons he doesn't want to believe, but realizes are true. No way would Letty hurt him without a good reason.
The dialogue was well-written and entertaining because it was so intense. Darius and his plan for revenge, which hurts Letty immensely sets them on a course between love and hate throughout this book, which turned this into an absolute page turner for me, as I was desperate to discover whether this couple could overcome the wounds Letty caused the hero in the past and the hurt Darius causes the heroine in the present. Moreover, each say things they regret and make decisions that hurt the other, which also made for interesting reading. Could Letty forgive Darius for hiding the truth about her father from her? Could Darius realize that the decision Letty made to hurt him in the past was for the greater good?
Both characters were compelling and made this story the worthwhile read it was. From the year Letty and Darius went their separate ways, life has been good for the hero and not so good for the heroine. She's barely managing to support herself and hasn't had the easiest of times because of the crimes her father committed and went to prison for. Indeed, she was pretty much condemned alongside her father and is still shunned by high society, but everything she's been through has made her that much stronger, especially when it comes to dealing with Darius and all that he puts her through. And being with Darius again makes all she went through easier to deal with by giving them both the chance to heal when the truth is finally revealed of why Letty betrayed him.
Looking down, she realized how low cut the gown was. Her cheeks went redder. "I shouldn't wear this."
"Why?"
"It's too revealing. Everyone will stare."
"They will stare regardless."
"Because I'm the daughter of a criminal."
"Because you're an incredibly beautiful woman."
While Darius, he's a real jerk in the beginning, but definitely has redeeming qualities that make him easy to forgive. Certainly, it's understandable why he wants revenge against Letty and her father. But at the same time, he comes to realize that revenge can make a man regret so much. Indeed, the way he wins back Letty had me cheering that he was successful. But with the big secret he's hiding from her, he doesn't make things easy for himself, especially when she learns the truth. Will she be able to forgive him? Will Darius be able to forgive himself?
Overall, Ms. Lucas has penned one of the best Harlequin novels I've read recently where the characters emotions and reactions certainly drive the story and send their chemistry off the charts. Chemistry which eventually spills over onto the pages in hot sex scenes that reveal how much these two still love each other, no matter how much they deny it. The way this story ended was perfect, as Letty needed Darius just as much as he needed her. Otherwise, neither of them would ever be happy. I would highly recommend The Consequence of his Vengeance by Jennie Lucas, especially if you enjoy any of the following tropes: marriage of convenience, surprise pregnancy, revenge, or second chances.
Book Info:

 January 17th, 2017 | Harlequin Presents| One Night with Consequences #27
His goal: entice, seduce, reject…
Ten years ago, with her father arrested for fraud, Letty Spencer became the most hated ex-socialite in Manhattan, forced to push away the only man she's ever loved. Now Darius Kyrillos is no longer just the poor chauffeur's son and he's come back to claim her!
Instead of slaking his thirst for vengeance, Darius was consumed by insatiable need the moment his lips touched Letty's again. But he couldn't have foreseen the consequence of his actions—soon he'll be a father. Letty rejected him once; Darius won't allow her to do so again!