In Perfect Catch (Boys of Summer #2) by Sierra Dean, Floridian Alice Darling has a lot going on in her life. She is the single mother of a nine year old little girl, looks after her depressed brother, and works as both a waitress and a minor league umpire. Her inquisitive daughter is the result of a relationship she had when she was nineteen with an up and coming baseball superstar.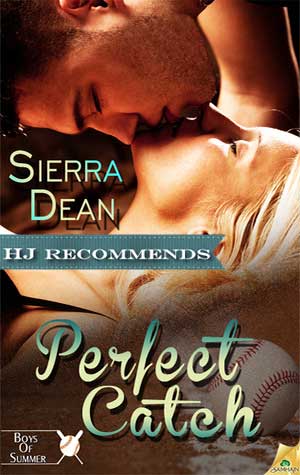 Alice's first love is her daughter Olivia, and a very close second is her love of America's favorite pastime, baseball. Umpiring is difficult, especially as a woman in a male dominated field. Alice prides herself on her ability to be fair and believes her work struggles will only help the next generation of female umpires. Although she is constantly surrounded by well-built, good-looking men, she never dates ball players because doing so could end her career. However, when Alex Ross shows up for Spring Training, all bets are off.
Alex is the starting catcher for MLB's San Francisco Felons. He loves baseball and up until recently, never let anything stand in the way of his job performance. He is originally from Georgia and has five sisters, thus, he gets henpecked from time to time. He and Alice have instant chemistry and find it difficult to deny their feelings for each other. Alice is extremely hesitant about spending time with Alex, and not only because she could be fired from her job. Alex leaves in a few weeks to open the baseball season in San Francisco, and having her heartbroken once again is not something Alice wants to deal with twice in a lifetime.
Unfortunately, Alice is on Alex's mind so much, he is unable to concentrate on the game and is sent back down to the minors to get his hitting back on track. Alex's absence has left a hole in Alice's heart as well. They begin to see each other once again and this time they fall in love. Once some obstacles and baggage are dealt with, Alice and Alex can find their happily ever after.
I truly enjoyed this book and look forward to reading more from this author. Ms. Dean's writing voice flows competently from beginning to end, along with her loving enthusiasm of baseball. I like reading romances with a sports theme, baseball especially, and this story actually illustrates some of the angst the ballplayers go through on a regular basis, which I found to be quite enlightening.
Perfect Catch is a wonderful contemporary romance with a nice balance of fun, lust, action and love. All the characters are well-defined and described, which made it very easy to become a part of their lives. If you are in the mood for an entertaining sports romance with some interesting twists, definitely give this book a read.
Book Info:

Publication: March 11th 2014 by Samhain Publishing | (Boys of Summer #2)
Is their love a home run, or merely a pop fly?
Minor league umpire Alice Darling loves everything about baseball. That means hunky ball players are strictly off limits—dating one would be professional suicide. With a young daughter and a brother to care for, she can't afford to slip up.
Truth is, as a young, stupid, nineteen-year-old townie, she did once date a player. That's how she wound up with her precious, nine-year-old daughter…and a determination to never make that mistake again. Alex Ross's arrival in Florida for spring training, though, shakes her resolve in a big way.
Alex, a catcher for the Major League's San Francisco Felons, has never let much get in the way of his game. One look at Alice changes everything, and he finds himself pursuing her with a single-minded purpose that plays hell with his concentration.
Booted back to the minors, he returns to Florida with his tail between his legs to work on his swing…and heat things up with Alice. But when rumors of their affair hit the sports blogosphere, Alice's career is put in jeopardy, and their love starts to look more like a strikeout than a home run.
Warning: When a catcher struggling with his swing meets a stubborn single-mom umpire, his bat won't be the only thing that heats up. Contains car sex, bed sex, sex sex, and a little angst for good measure.