The Bride Said Maybe by Cathy Maxwell: There's been a bit of talk on Harelquin Junkie recently about tropes, and which ones certain novels use. The Bride Says Maybe uses one not on the list, the "married to pay your father's/uncle's/brother's/guardian's debt" trope. In this case, the sacrificial victim is Lady Tara Davidson, a spoiled, headstrong young woman, who fancied herself in love with her family's horse master. She abandoned her fiancé in London, and ran back to her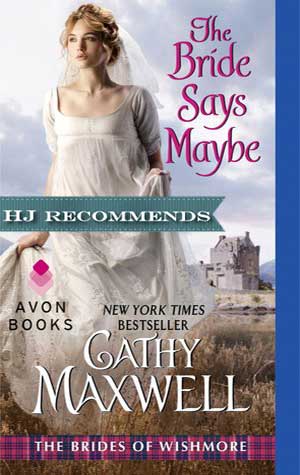 home in Scotland to find him and declare her love. This did not work out well, and now she is a ruined spinster, living with her drunken gambler of a father. When her father loses everything, she is essentially sold to Breccan Campbell, Laird of the Black Campbells, in exchange for his gambling debts. Tara refuses, and attempts to run away.
Breccan wants Tara desperately. Breccan, also known as 'The Beast of Aberfeldy' suffers from poor self esteem; he believes himself unattractive because he is a big, tall man, and people call him names like "great ox" and treat him as if he were stupid. He is definitely not stupid, and has been a good and progressive laird to his people. However, he craves the acceptance that being married to a great beauty such as Tara would give him, and the handsome sons and daughters he envisions from the union. What he didn't count on was that Tara would have a strong personality and that she didn't want to be married to him! They meet on the road to her father's home; Tara dressed as a man and running away from Breccan as fast, if ineptly, as she can. Breccan is not impressed. However, there they eek out a bargain: Tara will marry Breccan to save her undeserving father, and Breccan will let her go to London and live independently after she gives him two children.
Returning to her father house to get married, Tara tarries to too long when dressing, and Breccan is ready to storm off and not go through with the wedding. Tara, realizing that without the marriage she has no options left, issues him a daring challenge:
….Her life was crumbling around her, but Laird Breccan offered escape.

"You don't want me to play you for a fool?" she repeated. "Then the challenge is for you to tame me sir,"
Breccan, of course, accepts the challenge, and they are married and heading to Wolfstone Castle, Laird Breccan's home. There, Tara has a lot of get used to: Breccan's dogs, his family, a horse race that could begger them all, unscrupulous people, gossip, and that once longed for horse master. It's a winding road to true happiness for this couple, and it's a pleasant read to go along the road with them.
This is such an earnest and unpretentious book, and a story about people who gradually overcome annoying obstacles to find love. Both Tara and Breccan have huge chips on their shoulders; they want to prove themselves worthy to the world and to each other, and in the end they do. They are both, in general, likeable people. The biggest (and most amusing) conflict for much of the middle of the book is between Tara and Daphne, Breccan's Scottish Terrier. Breccan is also unfortunate enough to have some very unpleasant relatives, which cause a few bumps in the road.
What is most interesting about this book is what I didn't know when I was reading it—that it was part two of an expected three book series! The first book from the "The Brides of Wishmore" is titled The Bride Says No and is about Tara's abandoned fiancé and her older sister—Lady Tara is essentially the "bad guy" of the first book! However, if you just want to read this book (which, by-the-way, has a absolutely gorgeous cover!) you'll be happy to know that it stands alone very well.
Book Info:

Published February 25th 2014 by Avon
What happens when a bride says maybe?
She'd once been the toast of London, but now scandal has brought her down. Still, pretty, petted Lady Tara Davidson can't believe her new fate. She had wanted to marry for love . . . but her profligate father has promised her hand to none other than Breccan Campbell, the "Beast of Aberfeldy" and laird of the valley's most despised clan! Well, Tara may have to marry him, but Breccan can't make her love him—can he?
What happens when the groom insists?
Breccan Campbell is nobody's fool. He knows that Tara is trouble. Yet he's determined to reform the Campbell name even if it means forging an alliance with the arrogant beauty. There's no doubt that Tara is a challenge, and Breccan loves nothing more. For he's vowed to thoroughly seduce Tara—and make her his in more than name alone.