In Carolina Man by Virginia Kantra, Luke is a Marine. It's what he is, who he is, and how he defines himself. He has never had any plans for marriage, a white picket fence, or children. Luke's life is thrown into the unknown though when he discovers he has a daughter…a 10 year old daughter – Taylor – he never knew about from his relationship with his high school sweetheart Dawn. The only reason he found out is because Dawn has suddenly died and she has named Luke as guardian for Taylor. As soon as Luke finds out, he makes his way home to Dare Island, his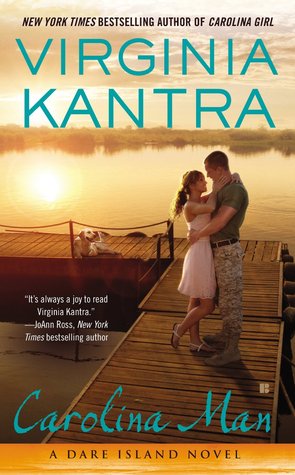 family, and his daughter. As far as he is concerned she is his responsibility, even if he has no idea how to be a father to her. He's back to decide what to do…how to be responsible for Taylor when he heads off on his next mission.
Kate was Dawn's friend and employer. She is also a lawyer, in charge of Dawn's estate, and generally concerned for Taylor's well being. Kate grew up with a military father, and she now paints all military personnel, especially men, with the same brush. Her bad childhood and the issues from that have carried forward into her adulthood. She has a distinct lack of trust of men and relationships and has absolutely no intentions of being in any kind of relationship.
As Kate spends more time with Luke and Taylor, helping them with their relationship and other issues that come to light, Luke becomes more and more enamored of his daughter and in much different ways, of Kate. Soon they both realize how much they want each other, how much they need each other, if only Kate can open up and give Luke a chance. Luke is a man used to being on a mission, and this one just got very personal!
Can Kate take a chance on love with her grown up heart? Will Luke find a way to do what he loves, take care of his daughter at the same time, and build a relationship with Kate?
Virginia gives us some great characters in Carolina Man. They will capture your heart and enchant you! I love, love Luke! He is the ultimate strong, alpha Marine…the mission, whatever it is, takes precedence. He does what is right, even if it is unexpected. He has a big family and an even bigger heart…he doesn't mess around or play games. I loved his character…how he exudes confidence – except when dealing with the unknown of his daughter…then the little clinks in his armor show through a bit! I felt like Virginia gives us a lot of insight into both Kate and Luke. Kate was a character I just felt sorry for. She is missing out on so much with her unresolved childhood issues and trust issues. I really found myself hoping she could work things out for herself and move forward to real happiness. Together Luke and Kate handled what was thrown at them and Taylor's situation like the adults they are…which I also really liked. The chemistry between Luke and Kate is subtle, but it's definitely there and I can see the two of them together, if that's where both of them want to be.
Taylor is a sweet, frightened little girl. I enjoyed watching her character evolve and the relationship between her, Kate and Taylor take shape. The only thing I felt was missing from Carolina Man was more of an explanation for Dawn's silence about Taylor to Luke. That will forever just be a mystery not only for the reader but for Luke also.
There are lots of secondary characters in Carolina Man, from the ones on the outskirts to Luke's family, to Jack, a police man on Dare Island. They all lent credibility, warmth, and even more realism to Carolina Man – they are an important part of a well rounded story.
Carolina Man is very well written and easy to read and follow. Virginia builds the story well, making the reader feel a part of it. I am really looking forward to what Virgina Kantra gives us next! Carolina Man was a treat to read and I'd highly recommend it to any romance reader!
Book Info:

Published March 4th 2014 by Berkley
Meet the Fletchers of Dare Island
Steady Matt, the son who stayed
Ambitious Meg, the daughter who never looked back
And warrior Luke, the Marine who never expected to return.
A heartwarming new novel in New York Times bestselling author Virginia Kantra's beloved series about family ties, second chances, and the power of love…
Marine Luke Fletcher is determined to do his duty—first to his country and now to his ten-year-old daughter, the unexpected legacy of a high school girlfriend. But his homecoming to Dare Island in North Carolina's Outer Banks challenges his plans for the future and forces him to face everything that's missing in his life. He wasn't prepared to lose his heart to this child he never knew. Or to fall hard for coolly reserved small town lawyer Kate Dolan.
Former military brat Kate knows Marines can make lousy fathers…and she's got the scars to prove it. Giving her heart to a man who's bent on leaving seems one sure way to have it broken.
Now, no matter what it takes, Luke must prove to Kate and to his daughter that Semper Fi is more than a motto—and to himself that there's more than one way to be a hero.