Pick Me by Erika Marks: Thea Dunn is confused… dumped by her boyfriend, her house infested with termites, and now "vacationing" back home in the Bay. Then she realizes her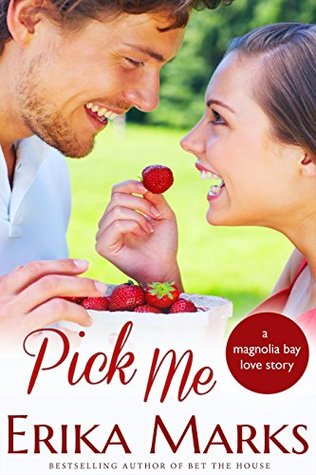 next door neighbor for two weeks in her high school prom "date," Calder Frye. Yes he still is as hot as ever!
What's a girl going to do in these next two weeks?
Though a very short story Ms. Marks has the ability to draw you in and get you to fall in love with both Thea and Calder. This novella is part of a series and we have gotten to know Thea and her family a little bit before so she didn't have to give us much with them, but she does begin with Calder and his family in such a way that we can really understand where he is coming from.
Pick Me though part of a series can be read as a stand alone. It is not to be missed though for a sweet family oriented summer romance.
Book Info:

Published July 2nd 2014 by Tule Publishing Group
Recently dumped by the man she'd planned to marry, no-nonsense attorney Thea Dunn has returned home to Magnolia Bay to mend her broken heart. But when she learns her new neighbor is Calder Frye, the bad boy who sets the pulse of every good girl at Magnolia Bay High racing, Thea's verdict to swear off men is in danger of being overturned…
Fourteen years after graduation, Calder has traded his rebel lifestyle to become an ER doctor—but his sex appeal is every bit as powerful as Thea remembers. Could her short-term residence be the perfect chance to live out a teenage fantasy? Or could their reunion be a chance for something more?