In Surprisingly by Debra Kayn, Crista Johnson and Bruce Coldwell have been best friends since the day her heel broke on the street and he carried her all the way to her destination. The fact that they both love sports and he is a world-class pro bass fisherman while she is cyclist makes them even closer. Now that Bruce is coming to stay with her before his next bass fishing contest, Crista cannot be any happier and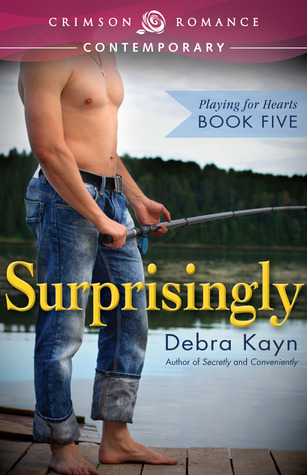 already has many plans for their staycation.
But things are not always that simple, for Crista hates her neighbor Janelle, who cannot let a moment go by when she is not putting Crista down for her appearance or her dedication to exercise and sweating. So when Bruce shows up and runs into Janelle, then asks Crista to set them up, she knows that he is asking for a lot. Only knowing Janelle, she knows that she will not look twice at Bruce unless he is involved. Janelle only goes for other woman's husbands and boyfriends so Bruce suggests Crista poses as his lover to create the perfect bait
Bruce always saw Crista as one of the guys, but spending time with her as her pretend boyfriend and seeing her as a woman has brought a new light to things. Only now Janelle, the perfect woman he wanted in his bed will not let him go as easily, and in the process he may not only loose his best friend, but the woman that means more to him than anything in the world.
If you have been reading along the Playing for Hearts series, you know that there has always been a special connection between Bruce and Crista, even if they didn't acknowledge it. We have seen every one of the group of friend find their perfect partner, but if you were like me, you were wondering what would happen with these two. Well the perfect way was to pair them up, but Bruce being the player he was didn't make it easy. While he tried to hook and reel one woman he realizes he might've reeled the wrong one. Now he will have to find a way to convince Crista to give them a chance after breaking her heart.
If you want a sweet, fast and hot read, don't miss Surprisingly by Debra Kayn.
Book Info:

April 21st 2014 by Crimson Romance
Bruce Coldwell, world-class pro bass fisherman, walks into his friend Crista Johnson's apartment and instantly falls in lust with Crista's supermodel neighbor. The two weeks of vacation with his best friend will give him the perfect opportunity to dally with the bombshell. Now all he has to do is convince Crista to hook them up.
Excited to have her friend Bruce stay with her, Crista Johnson plans out their whole staycation. But, when he asks her to set him up with a woman she's trying to un-friend from her life, Crista knows he's asking the impossible. Janelle is a piranha and only sleeps with other woman's husbands, and boyfriends, and lives to one up other women.
When Bruce suggests Crista poses as his lover to create the perfect bait, Bruce finds out he might've reeled in the wrong fish … um, woman. Hook, line, and sinker!