In Bride by the Book by Kathryn Brocato, Angelina Brownwood needs to get away from her current job and her father, aka her boss. He has been driving her crazy with all his claims of betrayal to the point that she cannot stand it anymore. So she will do what she believes is the dream job, to be a secretary. Her father's secretary is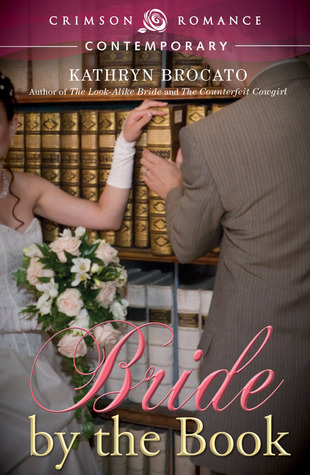 efficient, runs the office, leaves on time and has an actual life. Something that Angie does not have.
Garner Holt is an attorney from a small town in Arkansas, badly in need of an assistant. He needs someone to bring order to the chaos that is his office. All his books and files are in piles all around the floor and every available surface. So when a resume from Angelina Brownwood arrives, he decides to hire her since she sounds like a super-secretary. From everything listed, he expects her to be an older lady with plenty of experience who can help with all his office needs.
On the day Garner is expecting her to arrive, he meets a young lady that looks almost like a teenager at the diner, she is new to town and he thinks of her as jailbait. What he doesn't expect is to meet her later that same day dressed like an older lady, with a suit and high heels. At first he doesn't know what to believe, it doesn't appear that she knows anything about being a secretary, but she is efficient, really good with computers and she is actually organizing his office.
What he doesn't know is that she is a software executive and engineer and that she taught herself everything about being a secretary from books she read. He admires her outlook and that she loves being a secretary, which is below what she is capable of, which makes him even more attracted and determined to have her. But after listening to her story about what happened with her father, he knows that something must be really wrong with her father, but the only way to make her do something is to fire her and send her back home.
Bride by the Book by Kathryn Brocato was a really fun read. I loved that Angie is a very determined and intelligent woman, even if she does feel a little like a failure with her parents. Not going to tell you why, you will need to read it. Then there is Garner, he is sweet, smart and hot, what else could Angie possibly want right? But Garner will show that Angie needs to fix things from her in order to move on to her future, instead of running away from them, as she was doing when she went to work for him. And the ending was just awesome, I loved the way that Angie planned to get her man and keep him permanently, let's just say that resume she sent him was very interesting.
If you want a fun, smart and entertaining read, don't miss Bride by the Book by Kathryn Brocato.
Book Info:

May 26th 2014 by Crimson Romance
When Garner Holt, a small-town attorney badly in need of an assistant to sort out his cluttered office, tries to hire a secretary from a résumé he receives in the mail, he doesn't expect a super-secretary like Miss Angelina Brownwood, who has just moved to Arkansas from California. But she clearly understands computer technology and has no problem with applying a little elbow grease to marshal his dusty den of an office into order. He wonders what her real agenda is—especially when he suspects that she has never been a secretary before in her life.
Still, he finds himself enchanted by her joyful approach to life and sets himself to get rid of the dark circles beneath her eyes by showing her how to jog and eat a healthy diet. He takes her to a party where he discovers she has a knack for making friends and hauls her home when she manages to drink too much. He decides to do an online search and discovers he is right: Angie Brownwood has never been a secretary.
In fact, Garner is stunned to learn that she taught herself secretarial work from books. She had been a high-powered software executive until her father, who owned the company, went berserk and fired her. To his further amazement, he realizes she considers herself liberated from a life of drudgery and that she loves being a secretary. Powerfully attracted to her outlook, he wants to make her his, but her father needs help, and Angie is not going to welcome his interference in the wonderful new life she has built for herself.