In Poison Promise (Elemental Assassin #11) by Jennifer Estep, There's never such a thing as rest when you're an assassin. Gin Blanco, aka The Spider, is still recuperating from her last battle with Ashland's previous crime boss when a new threat presents itself. She's not afraid of facing down anyone evil that steps in her way, but when those close to her, namely her sister Bria and her employee Catalina, come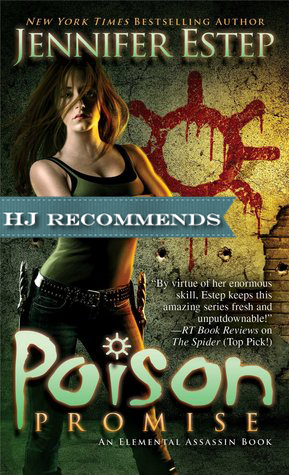 under fire–well, that makes it personal and she will do whatever it takes to get rid of the issue.
"I know you, Gin. If there is the slightest risk to anyone you care about, then you will eliminate that risk. And we know how you do that."
"By carving people up like Christmas hams," I finished.
"Exactly."
Gin and her quirky band of friends & family start forming a plan to take down a cruel drug lord who is setting the streets alight with a new drug called Burn. They'll need every magic power they are gifted with and an arsenal of weapons to eradicate the threat from their town. But will it be enough for Gin to overpower a mastermind who has some serious magic of his own?
'I was tired of constantly fighting for my life–of all the blood and battles and bodies that just never seemed to end. But I would never, ever get tired of protecting the people I loved.'
Poison Promise proves once again that Gin Blanco, aka The Spider, is one woman you don't want to cross. At least not if you want to live to talk about it.
The Elemental Assassin series is a little bit difficult to explain if you haven't read it yet. It has elements of fantasy/urban fantasy, paranormal, and has a ton of action and suspense mixed in to keep it fast-paced. I will warn you that the action scenes particularly are gritty and somewhat graphic. But it works perfectly for this storyline, with Gin being an assassin who has every evil crime lord in Ashland after her. I personally like that Jennifer Estep has created our heroine to be methodical, ruthless, smart, and brave…yet is still extremely protective and loving to her family, her boyfriend, and anyone else who needs her help.
The other thing I love about this series is the current of dark, subtle humor throughout each book. With a story that centers around a hired killer fighting drug lords, vampires, and every type of evil criminal imaginable, the more lighthearted bits of conversation help to keep it from getting too bogged down with dark scenes. I especially chuckle every time Gin casually mentions her daily trip to take out the trash and wondering if anyone is lurking outside. Which more often than not, there is someone there waiting to harm her. Her family and friends also do a great job of lightening up the mood, with Finn forever scamming food from her at the restaurant, and Owen kissing her, much to everyone's dismay with their PDA. lol
If you enjoy super-charged urban fantasy with unique characters, definitely try Poison Promise. You can jump in here with book eleven and still understand it easily. Or, if you have been following along already, this will give some more insight into Gin's troubled past while she looks to defeat her current foe.
Book Info:

Published July 22nd 2014 by Pocket Books | (Elemental Assassin #11)
Gin Blanco is hard-nosed, sexy, and lethal. Nicknamed "The Spider," she's a stone elemental assassin who brings her unique mix of magic and tact to every assignment, no matter the target.
There's a new drug on the streets of Ashland, and its name "Burn" sums up the potent effect it has on its users. When one of her restaurant employees is threatened by dealers of the drug, Gin steps in to set things straight…