In Raw Heat (Larson Brothers #3) by Cherrie Lynn, Emma Haskell is the one woman off limits to Damien Larson, even though he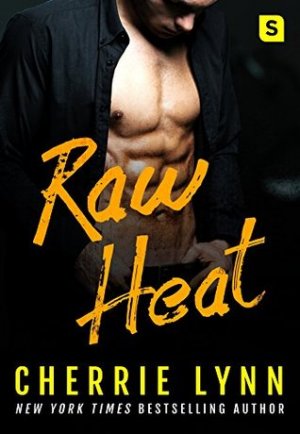 wants her. However, when her brother gets into trouble at the illegal poker room Damien runs upstairs of his nightclub, Emma has no choice but to agree with Damien's terms of spending thirty days with him in exchange for clearing all of her brother's debts. But when Emma finds herself faling for Damien, will he crush her heart or will he convince her that he's ready for happy ever after?
"You've been nothing but…kind," she finished lamely. That only made him laugh.
"I've been called a lot of things, but I don't think 'kind' has ever been in there."
"I just mean you've done everything you could to make this situation tolerable."
"Tolerable," he echoed.
"I mean—Oh my God, nothing is coming out right. You always get me so flustered."
"It's okay, Emma. I understand what you're saying."
I really enjoyed the first two books of this series, but I believe this story is the best of the three due to the fast=paced storyline that had some very interesting and exciting obstacles for this couple to overcome; the fantastic main characters that had me hooked due to their back stories with Damien never wanting to settle down because forever after is something he doesn't want; and the entertaining dialogue that made this story a scorching and wonderful read. The way this story started drew me in immediately, because of what the heroine is doing in her job as an accountant. Will she uncover anything wrong?
Both the main characters were compelling due to their chemistry, which was powerful; their sizzling romance that spilled over onto the pages wonderfully; and the interactions these two have, as they grow closer and Damien shows Emma that having fantasies when it comes to exploring their chemistry is a good thing. Moreover, the heroine is resilient, courageous and I liked how determined she was to help her brother, even though it seems she's enabling his habit by continuing to bail him out. I also liked how Emma challenged the hero, especially when it came to the moment where their relationship went awry and she wasn't afraid to speak her mind and really let Damien know what she thinks of him.
While the hero, he's confident, hard-working and I could understand why Damien doesn't find it easy to trust after everything he's been through in his past. I also liked how determined he was to make the heroine as comfortable as possible when it came to their deal and that he didn't push the heroine into anything until she was absolutely ready. Yet, what I liked most about the hero was the decisions he made throughout this story and that he made the right ones when it counted. Will he have what it takes to win back the heroine?
"I think you're one of the most complex people I've ever met."
"Really? I think I'm rather simple."
"Please. I feel like a rat running through a maze looking for the cheese when I'm dealing with you."
Overall, Ms. Lynn has penned a really hot and wonderful read in this book where the secondary characters in Emma's best friend and Damien's brothers had me smiling because of the advice they offer the hero and heroine. Emma needs to take a chance and no one is better for Damien than Emma. The way this story ended was intriguing, especially because Emma has some big decisions to make. Would she help her brother? Would she give in to what Damien wanted her to do? Will her parents listen to her advice when it comes to her brother? However, it was the way the hero made things right with Emma and the epilogue that wrapped this story up nicely, because Damien will do anything in his power to win the heroine back and I loved his words to her. Certainly, it proves how much he cares together with what he did, so he doesn't lose everything that he's worked so hard for. I would recommend Raw Heat by Cherrie Lynn, if you enjoy the blackmail trope, the opposites attract trope, or books by authors Jasinda Wilder, Heidi McLaughlin, Samanthe Beck and Rebecca Brooks.

Book Info:

Publication: September 5th, 2017 | Swerve | Larson Brothers #3
Youngest Larson brother Damien has the luck of the devil. Fast talking and faster thinking, he owns a successful nightclub in Houston and runs an illegal poker room upstairs. After a troubled childhood, now nothing is out of Damien's reach—except his accountant, Emma Haskell.
Emma has always been drawn to Damien's dark intensity and the gleam in his eyes that promises more than she can possibly handle. But when her brother's gambling threatens to destroy her family, Damien makes her an offer she'd be crazy to accept—but can't refuse: her brother's debts will be forgiven, and Emma belongs to him for thirty days.
In Damien's world, he shows his angelic bookkeeper what it's like to live with the devil. But Emma brings out a side in Damien he thought didn't exist. Will the flames of lust scorch them both, or will this beauty tame the beast and give him something to fight for?