Reunited…and Pregnant by Joss Wood is a sexy second chance romance, and part of the Ballantyne Billionaires series. There are four siblings, all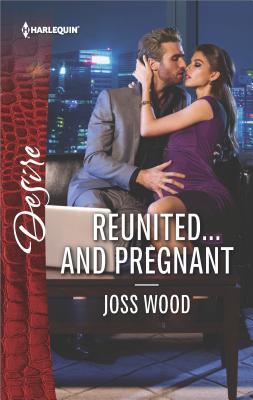 involved in the company business of acquiring and selling gems. Beckett is the company financier, a job he took after his family insisted that he take a gap year between school and full time work. Meeting Cady at an off campus party, Beck made the impulsive decision a few weeks later to ask her to travel with him to Asia for the summer. Cady loved the idea of not going home to her restrictive religious parents and agreed. A few months together binds them emotionally but Beck is wary to get too involved. When he discovers Cady is planning to stay with him and continue travelling instead of going back to school, he breaks things off with her and sends her home.
Nine years later, Cady is living on her own in New York City, running a small PR company. As luck would have it, she's discovered she's pregnant and her ex-boyfriend (now also an ex-client) has no interest in playing any part in raising the child. Fate intervenes, and brings Cady back into Beck's orbit. Her PR firm is chosen to help rebrand the Ballantyne empire, a job she desperately needs, even if she's not so keen on being around Beck again. But it doesn't take long for them to end up back in each other's arms again, and Cady's pregnancy is no deterrent for Beck's desire for her. Will Beck take this second chance to make things right for him and Cady?
I really like this family! There are several scenes with Beck and his siblings showing what a close knit group they are and how much they care about each other. I enjoyed these as much as I did the scenes between Beck and Cady.
Beck's reasons for not wanting to commit to any woman stem from the loss of his parents when he was eight years old, a loss he blames on himself. The idea of loving someone and losing them is something that's kept his heart guarded for all these years, though he came close to losing it to Cady the first time around which was what scared him into breaking things off. Now that she's here with him again, he has a hard time resisting her. I liked seeing him come to the realization that he's been given a second chance and that he needs to show her that he's grown and can be the loving partner she deserves. The fact that she's pregnant with another man's baby is never an issue for him, which I also appreciated.
Cady comes across as a smart and resourceful woman, though she's made a few mistakes in her life. Still, she's happy to raise this child on her own. As a pastor's daughter, she's always felt like she had to live up to a certain reputation which put a lot of pressure on her, and still does. I liked that she gets the chance to improve the relationship with her parents and clear up some misunderstandings between them, proof that things aren't always as cut and dried as they might seem. In the end Beck makes the right choices, and Cady is generous enough to forgive him culminating in a happy ending for the couple and a sweet epilogue. The Ballantynes are proving to be an interesting lot and I look forward to reading more about them!

Book Info:

Publication: June 1, 2017 | Harlequin Presents | The Ballantyne Billionaires #2
She's pregnant…and working with her ex!
PR whiz Cady Collins's personal and professional lives both desperately need a reboot. So when millionaire Beckett Ballantyne decides to rebrand his company, Cady is determined to land the job. The only complication is her romantic history with her devilishly handsome boss, whose smoldering blue-eyed gaze still makes her swoon. And the only complication with that is the fact she's already pregnant!
Beck doesn't mind that he's not the baby's father–he only knows he burns for the mom-to-be. But when a media misunderstanding leads to a fake engagement, will Beck end the Valentine's Day charade or play for keeps?