In Romancing the Ranger (Cotton Creek #1)by Jennie Marts, Reese Hudson never expected to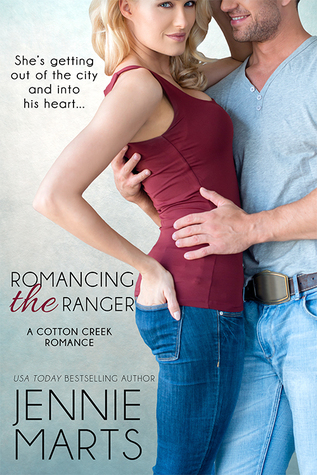 be arrested just for destroying some keepsakes that remind her of her failed relationship. Then again, burning down an outhouse is certainly enough of a reason to have handcuffs slapped on her wrists by an irritating but sexy park ranger. Yet, being arrested isn't the worst thing to happen to her. What's more she's sentenced to rebuilding the outhouse under the supervision of the hot ranger that arrested her.
"You're not really having the best day there, are ya lady?" Ranger Wade bent before her, a paper towel in his hand. He'd washed up and wore a fresh uniform shirt.
She groaned inwardly at what a disaster she must look like. "You don't know the half of it. And my name is Reese. Reese Hudson."
He tipped up her head and dabbed at the cut on her forehead. "Reese? Like the peanut buttercup?"
"Yep. Only singular." She tried to nod, but winced at the pain. "It seems like you're quite the hero today. Putting out the fire and now offering first aid. Did you bandage my dog's leg, too?"
Park Ranger Wade Baker can't believe he's been assigned to babysit the rich city girl that's managed to land herself in trouble the minute she hits town, especially when she's been tasked to rebuild the outhouse she burned down; a task he's certain she's bound to screw up without his supervision. What's worse, she reminds him of his ex, yet, he can't help but find her intriguing. Can he resist temptation, or will he succumb to the heat blazing between them to give himself a second chance at love?
I really enjoy this author's books, and I've got to say that this story does not disappoint. Ms. Marts has penned a well-written and satisfying read in this book, encompassing the opposites attract trope, a heroine that's managed to land herself in trouble and tasked with an assignment she doesn't have the first clue how to accomplish, and a hero forced to supervise her efforts. Right from the beginning, the fast-paced plot gripped my attention, as Reese is determined to expunge any memories of her ex-boyfriend, and in her desperate attempt, she manages to land herself in jail.
Miss Abigail's mouth dropped open, and she gaped at Reese. "You stopped a fight with a box of donuts?"
"Yeah, nothing like getting hit in the head with a maple-iced to take the fight out of a guy." He said the words and couldn't help the slow grin that crossed his face. It was kind of funny. The three of them stared at each other a moment, then Gram giggled, sending all three of them into a bout of laughter.
As for the dialogue, it kept me entertained from start to finish. No longer is Reese going to allow anyone to dictate her life, especially her father. So, her new found assertiveness certainly had me cheering, even if it did tend to get her in trouble with Wade. There are some really good light-hearted moments between Wade and Reese, or between the main characters and Wade's Gram that had me smiling. However, the dialogue is also intense due to the trouble Reese's ex causes and Wade believing Reese is no different to his ex which leads him to jump to the wrong conclusions about her . The first reason I didn't know if they could overcome because Wade is so stubborn and Reese's ex is just plain annoying in wanting her back.
I really liked both Wade and Reese. The heroine sure provides a challenge for the hero. He believes she's exactly likes his ex when she tries to use money to solve her problems. Yet, I enjoyed how Reese proved him wrong. That she's nothing like his greedy, money-loving ex. She's kind, caring, tenacious and feisty. Certainly, she's determined to take control of her life instead of allowing her father to dictate her future. She's also determined to prove to Wade that she can complete the task she's been assigned while bringing a bit of fun to the hero's life because he's so brusque with her at the start of the book.
While Wade, he starts off gruff and doesn't seem to know how to relax because, of the sort of woman he believes Reese to be. She's a city girl and rich; the complete opposite to him since his ex left him with a lot of debt. Yet, the kindness she shows his Gram and her adamant reasons for using her money the way she does proves he shouldn't judge a book by its cover. Or in the other words, never judge a woman by her appearance and her desire to right her wrongs by throwing money at the problem to solve it. Because making wrong assumptions together with his stubbornness could lose him the one person that's come to mean everything.
The sex scenes were nicely-detailed and hot, as Reese knows what she wants and what she wants is Wade. The question of, is he a rebound or a second chance at forever after was difficult—for me – to decide in the beginning, yet the more time they spend together, the more it seems they're good for each other. Reese sure knows how to make Wade lighten-up, to not be so gruff and to let go and have fun both in and out of the bedroom.
Overall, this book was an absolute delight to read and Wade's Gram was a total hoot. I loved the moment when she was off to a PTA meeting, because what the three letters stood for made me laugh. The story ended nicely, although Wade was a jerk before they made up. I'm glad he realized what a mistake he was making by pushing Reese away, as he needed her just as much as she needed him. I would highly recommend Romancing the Ranger, especially if you enjoy the opposites attract or second chance romance tropes.
Book Info:

Publication: March 14th, 2016 | Entangled Publishing | Cotton Creek #1
She's getting out of the city and into his heart…
Reese Hudson meant to destroy mementos from her last failed relationship, not burn down an outhouse and incur the wrath of a sexy park ranger. When the judge rejects her offer to pay for the structure and sentences her to rebuild it—with the hot ranger supervising—she embraces the challenge to take control of her life.
Park ranger Wade Baker wants nothing to do with the rich city girl, no matter how tempting he finds her lush curves. She's too much like his ex-fiancée, and if he's learned anything, it's that women like Reese don't fit into his world. And he sure as hell wants no part of her big city life.
Reese may not know a hammer from a screwdriver, but she's working hard to prove she's not just some pampered princess to be toyed with. And damn it if Wade doesn't admire her tenacious spirit. If only they got along half as well outside the bedroom as they do in it, there might be a chance for them after all…