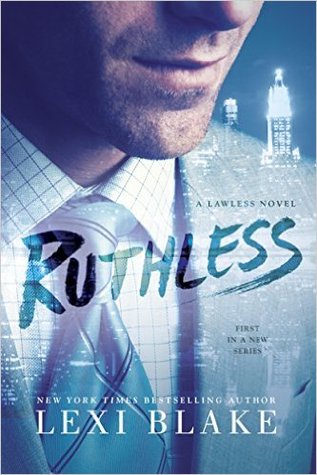 Ruthless by Lexi Blake: llie Stratton is smart, dedicated to the family technology business, and is tenderhearted. She's grown up with a ruthless father who made it known that he wanted a son rather than a daughter. She's grown to understand and value the R&D function of the company and become a great manager. She's still learning how to navigate as an executive and leader in a male-dominated world after her father died. Ellie is ready to move the company in a new direction, if only she can buy out her father's partner.
Riley Lawless has grown up with the mission of getting justice and revenge upon those who orchestrated the deaths of his parents. He's worked with his siblings on a plan to take down those responsible, and their plans begin with Ellie's company. As the lawyer, Riley plans to work with Ellie to get the inside information his family needs and executing their plans for her father's business partner.
"That's business, Ellie," he said quietly. "That's what most people call success."
"Then we need to redefine the word. Think about that, Riley. You say you want to be my general, but you don't understand the war I want to fight. It won't always be about money."
"You're an odd one, Eleanor Stratton."
The Lawless brothers are determined and solely focused on getting the revenge they need, but Riley begins to see things differently. He's attracted to Ellie in a way that he's never experienced before and he may have to choose between his family and her. They have an instant connection beyond the physical, but they also have very different outlooks on life and what is acceptable in business. Ellie challenges him as she is much more complex than he expected and she doesn't immediately trust him either.
"I told you to be sure."
Her eyes slid away. "I thought I was. God, Riley, look at you. I'm not an idiot. You're…all that muscley stuff and I'm average."
He stared at her, not quite understanding. "You're not average. I think you're beautiful."
"I'm trying to figure out why you're here."
Ruthless is a sexy, thrilling, and engaging story with plenty of surprises as nothing is quite as black and white as it might appear. Lexi Blake created complex, interesting, and entertaining characters in the Lawless family. Ms. Blake provided a great start to what is a promising new series. I can't wait to see where Ms. Blake takes this series next in the Lawless sibling's quest! Fans of Beth Kery, Roni Loren, Lisa Renee Jones, and Shayla Black will enjoy Ruthless.
Book Info:

 Expected publication: August 9th 2016 | Berkley | Lawless #1
The first in a sexy contemporary romance series featuring the Lawless siblings—from New York Times bestselling author Lexi Blake.
The Lawless siblings are bound by vengeance. Riley, Drew, Brandon, and Mia believe the CEO of StratCast orchestrated their parents' murder twenty years ago to steal their father's software program. And there's only one way Riley can find some solid evidence…
Heir to the StratCast legacy, Ellie Stratton hires a new attorney to handle a delicate business matter—and she's shocked by her attraction to him. Over the course of a few weeks, Riley becomes her lover, her friend, her everything. But when her life is threatened, Ellie discovers that Riley is more obsessed with settling an old score than in the love she thought they were building. And Riley must choose between a revenge he's prepared for all his life and the woman he's sure he can't live without…