I had such a great visit back to Sanctuary Island with Lily Everett's first full length novel in this series!
Ella grew up fast. Her mother was an alcoholic and in her early years Ella spent a lot of time dealing with her mothers mood swings, the fear of people finding out, and taking care of her younger sister. When her father finally left Jo Ellen, taking Ella and Merry with him, Ella felt very responsible for Merry. Often her father was working 2 jobs to support them, leaving the girls alone often. Jo Ellen got treatment with the help of her Aunt from Sanctuary Island, but she has never seen her girls since they left with their father. Despite weekly letters and requests to see them, it has never happened.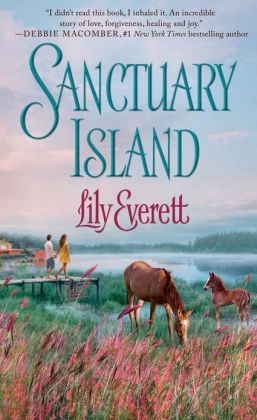 Now Ella and Merry are grown up. Ella is on forced leave from her job, close to burn out, and Merry is quite pregnant and single. Together, at Merry's request, they decide to travel to Sanctuary Island to reunite with their mother at long last. This is not a trip Ella wants to make, but she is still very protective of Merry, so she goes along with it. Ella guards her heart and her sister. Her life seems to be her work and her sister. She has had therapy over the years, but the hurt, anger, and distrust of her mother is still inside of her.
Ella is miserable, bitter, and angry that she is on isolated, tiny Sanctuary Island. One of the first person she runs into is Grady…what starts out as annoyance and anger with him quickly turns into unwanted attraction – for both of them.
"…Grady felt electricity arc between them in a flash of heat and awareness. Her eyes widened with it, and she stumbled back a pace."
But Grady trusts Ella as much as she trusts her mother, and Jo Ellen is a good friend to Grady, one he doesn't want to see used or hurt. Fighting the attraction doesn't help though, and soon Grady has agreed to show Ella what Sanctuary Island is. From the healing air to the magic of the wild horses, Ella feels the draw of Sanctuary Island, and Grady,…even if she won't admit it.
Both Grady and Ella have their issues and scars to deal with. Grady came to Sanctuary Island to heal, but Ella can't wait to leave it behind. Jo Ellen is hoping for forgiveness and a future with her daughters, something Ella is sure she does not want. But for the 2 weeks Ella agrees to stay on the island, she tries to find ways to help her mother save her house and not lose it to the lien. She tells herself she's doing it for Merry, but is she really? Ella knows how Grady feels about building up the island, so she keeps her plans a secret, even though soon they are spending more and more time together, becoming more and more intimate. Ella still plans on leaving, and Grady is trying to convince her to stay. Will Ella ever be able to move on from the past and start to heal? She recognizes other people can change, but not her mother…can she open up her heart and her mind to see that anything is possible? Just when Ella starts to think anything is possible, her secret comes out. Miscommunication, hurt, and more anger threaten all the positive moves Ella has made on Sanctuary Island. Ella and Grady will both need to find peace and forgiveness if they want to move on.
Wow, what a great romance Sanctuary Island is! Lily Everett brings the characters and Sanctuary Island to life with her descriptive, emotional writing. I would say the main part of the Sanctuary Island is Ella's story and her relationship with her sister and her mother. We really see them all grow through out the book. Ella's romance with Grady comes to life through out Sanctuary Island and becomes intwined with her (and his) relationship with her mother. All of the characters were realistic and people I could see in my head. Ella frustrated me at times. She is an idependent, strong willed, stubborn woman who has worked hard to get where she is, and doesn't want to lose it all. Except when it came to her mother, she could relate well to others, even if she seemed to feel everything had to be her way. We got a little background on her father, and I felt he had a lot to do with Ella's determination to have nothing to do with her mother. It was fun to see Ella lose some of that control around Grady!
Sanctuary Island kept me intrigued and never bored! I really can't wait for the next book to read about Merry who I am starting to love already!
Book Info

Publisher: St. Martin's Paperbacks (July 30, 2013)
When Ella's sister decides to reunite with their estranged mother, Ella goes along for the ride—it's always been the two Preston girls against the world. But Sanctuary Island, a tiny refuge for wild horses tucked off the Atlantic coast, is more inviting than she ever imagined. And it holds more than one last opportunity to repair their broken family—if Ella can open her carefully guarded heart, there is also the chance for new beginnings.
Grady Wilkes is a handyman who can fix anything…except the scars of his own past. When he accepts the task of showing Ella the simple beauties of the island that healed him, he discovers a deep sense of comfort he thought he'd lost. But now he must convince the woman who never intended to stay that on Sanctuary Island, anything is possible—forgiving past mistakes, rediscovering the simple joys of life, and maybe even falling in love.