In Willowleaf Lane (Hope's Crossing #5) by RaeAnne Thayne, Life has finally started to turn around for Charlotte Caine. She's the proud owner of the busy gourmet candy shop Sugar Rush in her hometown of Hope's Crossing, Colorado. And she has revamped her image, having lost more than eighty pounds over the last few years through diet and plenty of exercise. Charlotte has spent her lifetime being painfully shy and fighting her emotions with overeating. When her brother Dylan almost lost his life in an attack in Afghanistan and had to endure painful surgeries and rehab once stateside, she decided she needed to improve her own life and hold on to every precious moment she has. Even though she feels mentally and physically stronger than she has in probably her whole life, she still feels like that shy, overweight girl who was emotionally wrecked by her high school crush, Spencer Gregory. He was a few years older than her, was friends with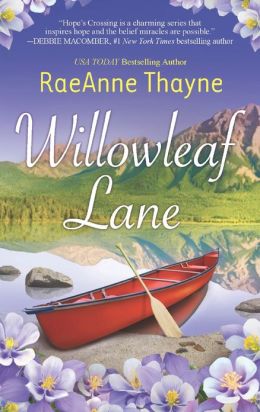 her older brothers, and worked at her father's cafe. Charlotte helped him with his writing assignments after school at the cafe when she was fifteen and fell in love with him. Spence seemed to appreciate the help and was always kind to her until she overheard him talking about her to one of his friends. That was the lowest point of her life and helped to shape who she would become. She knew she shouldn't take to heart what an arrogant jock said about her, but it was all her teenage heart and mind could think of.
'She was beginning to wonder if she had subconsciously started sending out some secret bat signal that she was single and desperate. Which didn't describe her at all. Okay, she was single. But she hadn't yet descended into desperation.'
Years later, Charlotte still feels the emotional pain of that day. When Spencer returns to town after a huge scandal ends his pro-baseball career, she has to face him on an almost daily basis seeing how he moved almost next door to her on Willowleaf Lane. His twelve year old daughter Peyton reminds her of herself at that age, having also lost her mom tragically, so she befriends her in the hopes of easing her pain a little bit. But Charlotte isn't ready for the feelings that resurface when she is reintroduced to Spencer for the first time in years. He obviously doesn't recall the heartbreak he caused her which just angers Charlotte more. But as she gets to know him as an adult, not a self-assured teen, she's intrigued by the kind, caring person she sees. He appears completely different than the image the media has sold over the years and she's not sure which version to believe. Spence comes up with an idea to use his position as the director of the new rec center in town to expand it into helping wounded vets. Charlotte is afraid he is just trying to clean up his image but finds that Spence is sincere and comes up with a great plan. She agrees to help him with the project. Every time they meet the intimacy between them becomes more intense, culminating in a powerful kiss. Charlotte can't imagine why he would be interested in her after all this time and downplays the attraction to him just being bored. But it's obvious their feelings are growing stronger. They keep getting thrown together and she wonders if fate is trying to tell her something or if she will just end up heartbroken once he leaves again.
'He gazed down at her and the moment seemed charged, somehow, glittery and sweet. She couldn't seem to catch her breath.
Spencer Gregory was kissing her, as if he couldn't get enough. This was crazy. She should say something. Shove him away, wipe her mouth, tell him to go to hell. But, oh, my. All her girlie parts were doing handsprings of joy.'
Spencer Gregory comes from humble beginnings but worked hard to become a pro baseball pitcher for the Portland Pioneers. Too bad he lost sight of some of the more important things in life along the way. He wasn't able to spend as much time with his daughter Peyton as he would have liked. Now that he's lost his job, thanks to a stint in rehab for prescription pills and a scandal over selling pharmaceuticals to his teammates, he's back in his hometown to take over as the director of the new rec facility. His supermodel wife tragically died about a year ago, leaving him alone to care for Peyton and try to reconnect with her. She's fighting the move to Hope's Crossing and making his life interesting to say the least. Spencer is thrilled when he finds out that his former friend Charlotte Caine lives on the same street where he's renting a house and that she seems to have a connection with Peyton. Having her as a third party seems to lessen some of the tension between he and his daughter. Charlotte has changed in physical appearance considerably but she is still kind and compassionate. He knows she was always beautiful and remembers her gorgeous blue eyes looking at him while helping him with his high school assignments. He's not proud that he was a typical teen and was focused on looks, not personality, but he is definitely not the same person he was back then. Against his better judgement, he tries to pursue Charlotte. He has no idea what he expects to happen, considering he'll probably only be in town for six months, but he can't help himself. He's never felt so strongly about a woman before. Time and again, Charlotte sends him mixed signals, giving in to his kisses one minute and then pushing Spence away the next. He's frustrated and confused until she confesses to overhearing a conversation he had with a friend back in school. He can't believe Charlotte will even speak to him again after that. He then realizes how wonderful a person she truly is and resolves to make it up to her some way, if it takes the entire town to do so.
"Yeah. Okay. Good night." He headed out but paused in the doorway, his gaze on hers. "For the record, that was one hell of a kiss, Charlotte. You know I'm not going to be content with just a little taste, don't you?"
The Hope's Crossing series by RaeAnne Thayne just keeps getting better with every new book I pick up. Her writing is very fluid and descriptive, making it very quick to read, and the characters all are well defined with intriguing backstories. Charlotte and Spencer are no strangers to loss and devastation. Their lives haven't been perfect by any means, but they have both fought to make their way and have worked hard for everything they have. I definitely identified with Charlotte's struggles with her self-image and was happy that she had found the strength to take control of her bad habits and turn her life around. Spence was a little bit harder to love at first, but with every bit of information we learn about the past decade of his life, I found myself better understanding some of the choices he made. I was a little disappointed in the lack of an epilogue to this story, but I'm sure we'll catch glimpses of Charlotte and Spencer in future Hope's Crossing books. Definitely recommended for contemporary romance fans.
Book Info

Publisher: Harlequin HQN (June 25, 2013)
Sometimes going back is the best way to start over
Candy shop owner Charlotte Caine knows temptation. To reboot her life, shed weight and gain perspective, she's passing up sweet enticements left and right. But willpower doesn't come so easily when hell-raiser Spencer Gregory comes back to Hope's Crossing, bringing with him memories of broken promises and teen angst. A retired pro baseball player on the mend from injury—and a damaging scandal—he's interested in his own brand of reinvention.
Now everything about Spencer's new-and-improved lifestyle, from his mission to build a rehab facility for injured veterans to his clear devotion to his preteen daughter, Peyton, touches Charlotte's heart. Holding on to past hurt is her only protection against falling for him—again. But if she takes the risk, will she find in Spencer a hometown heartbreaker, or the hero she's always wanted?