In Satisfaction by Sarah Mayberry, Bookstore owner Maggie Hendricks has learned to live vicariously through her girlfriends when it comes to her love life. She's certainly had boyfriends, and has enjoyed a physical relationship with said boyfriends. But she's never, well, finished things, let's say. Fearing there is something really wrong with herself, Maggie decides to be bold and seduce a local tattoo artist after hearing the sexy time her friend Cleo had with him while getting a tattoo.
'She was no seductress. She was a bookshop owner. A twenty-seven-year-old, orgasm-challenged bookshop owner wearing new, very uncomfortable underwear.'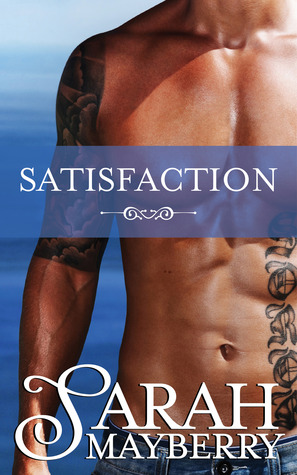 Things go a little wonky when Maggie makes her appearance at Brothers Ink, under the guise of a tattoo consultation. Turns out the hunky Brazilian god Cleo was with, Eduardo, has a twin brother, Rafel Oliveira. And although the brothers may be identical in looks, they do not have the same views on fraternizing during business hours.
'Who the hell was he kidding? He might be the more self-controlled twin, but he wasn't made of iron.'
Maggie finds herself in an awkward situation by coming on to the wrong brother. But Rafel becomes intrigued by her just the same and pursues her outside of Brothers Ink to see why such a normally reserved woman pushed herself to be so audacious. Rafel spends as much time as he can with Maggie, helping her with her situation. In turn, he starts getting emotionally attached to her, the first time he's been interested in anyone since he and his ex Lena broke up a year ago. But is he ready to become invested in a new relationship?
'It wouldn't surprise him if she'd forgotten what it was like to enjoy the journey, to savor the anticipation, she was so busy thinking about the end game. The challenge, he decided, was going to be getting Maggie to stop thinking.'
Satisfaction is one of the sexiest, funniest, most endearing romances I've read by Sarah Mayberry. I kid you not, the story was so hot, I think there was steam rising off my kindle!!
So you know a book is going to have a lot of juicy romance scenes when the premise is a beautiful young woman trying to finally get the big "O". I was totally prepared for the racy dirty talk and naked time. I wasn't expecting to completely connect with Maggie herself in her struggles, both physically and when she speaks about her emotional issues from growing up taking care of her mum. Her emotional breakthrough had me crying happy tears, seeing her finally realize how she could let go and just be free to really *feel* her emotions for a change.
Rafel turned out to be such a caring guy who actually did have her best intentions at heart. The fact that he was seriously hawt didn't hurt…but I was happier that Rafel took the time to listen to Maggie and find out why she wasn't happy. Then did something about it. I thought they seemed well-suited, and challenged each other in a good way. I'll admit I could guess ahead of time what the big conflict was going to be between them, but Ms. Mayberry did a great job with how things actually played out. And of course they did get their HEA. 😉
I highly, highly recommend reading Satisfaction if you like your romances very steamy & with a great cast of characters. I really enjoyed this one!
Book Info:

Published February 28th 2014 by Small Cow Productions
Maggie Hendricks loves her life. She's got a great job, amazing friends. Everything is perfect – except for one smallish problem. Maggie can't quite get there, sexually speaking. It's just never happened for her. And while she tells herself she's fine with that, she can't help feeling as though she's missing out.
When her friend shares the intimate details of an encounter with an extremely talented lover, Maggie makes a desperate pact with herself. She will seduce this man – or allow him to seduce her – and if he can't get her there…well, then she'll hand herself over to medical science. A simple enough plan. What could possible go wrong?
Within minutes of meeting Rafel Oliveira, Maggie knows the answer to that one: plenty. But Rafel turns out to be far more than simply talented in the bedroom. As he takes her on a journey toward the ultimate pleasure, Maggie finds herself craving a lot more than his beautiful body. The question is, is Rafel's heart available for the taking?