Scandal Never Sleeps by Shayla Black and Lexi Blake: Gabe and his five best friends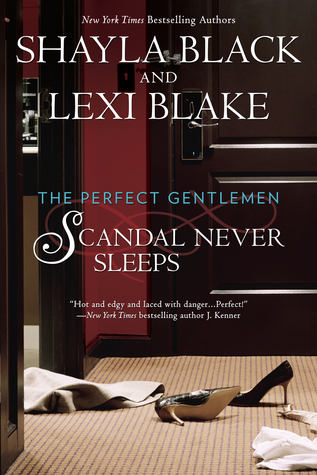 were known as the Perfect Gentlemen during boarding school and that name has stuck. All are wealthy and powerful in their own right. While Gabe had his issues with Maddox, they were still best friends. So, Gabe was shocked to hear of Maddox's very unexpected death. As a way to forget the pain, Gabe finds the very real and sexy Eve after the funeral. They have an amazing weekend before reality intrudes.
Everly's biggest concern is what will happen to her job at Crawford now that her mentor, Maddox, is dead. She may be young, but she's very good at her job in cybersecurity. A fantasy weekend with Gabe helped to take her mind off of her work troubles, but reality is a slap in the face when Gabe becomes her new boss.
"I'll tell you everything if you'll come with me. I'll put all my cards on the table, and you can show me yours. Then we'll see what kind of hand we're left with."
She nodded slowly, but withdrew her hand from his. "All right, but this is a professional relationship from here out."
They are immediately immersed in scandal. And it only gets worse when the news breaks that Mad was murdered. Along with the rest of the Perfect Gentlemen, Gabe and Everly are devoted to finding out what really happened to Mad. The chemistry crackles between them, but trust is more challenging when none of the puzzle pieces quite fit together. Everly challenges Gabe in a way that no woman ever has. Gabe is absolutely persistent in pursuing Everly no matter what.
"So listen and listen good, Everly Parker. I'm going to seduce you. I'll be beside you constantly, holding your hand and kissing you every time you'll let me to remind you how good we are together."
Scandal Never Sleeps weaves together politics, sex, scandal, intrigue, and betrayal in this too hot to put down tale of elite powerbrokers. Shayla Black and Lexi Blake create a world that sucks you in and doesn't let you go until the very last page. Ms. Black and Ms. Blake provided a sexy, ruthless, and loyal cast of characters in the Perfect Gentlemen. I can't wait to read about Gabe's best friends as this series unfolds. Fans of J. Kenner, Lisa Renee Jones, and Chanel Cleeton would love Scandal Never Sleeps.
Book Info:

August 18th 2015 | Berkley | The Perfect Gentlemen #1
From the New York Times bestselling authors of the Masters of Ménage series . . .
They are the Perfect Gentlemen of Creighton Academy: privileged, wealthy, powerful friends with a wild side. But a deadly scandal is about to tear down their seemingly ideal lives . . .
Maddox Crawford's sudden death sends Gabriel Bond reeling. Not only is he burying his best friend, he's cleaning up Mad's messes, including his troubled company. Grieving and restless, Gabe escapes his worries in the arms of a beautiful stranger. But his mind-blowing one-night stand is about to come back to haunt him . . .
Mad groomed Everly Parker to be a rising star in the executive world. Now that he's gone, she's sure her job will be the next thing she mourns, especially after she ends up accidentally sleeping with her new boss. If only their night together hadn't been so incendiary—or Gabe like a fantasy come true . . .
As Gabe and Everly struggle to control the heated tension between them, they discover evidence that Mad's death was no accident. Now they must bank their smoldering passions to hunt down a murderer—because Mad had secrets that someone was willing to kill for, and Gabe or Everly could be the next target . . .