In Secrets Of The Tulip Sisters by Susan Mallery, Running the family tulip farm with her father in Tulpen Crossing, Washington, is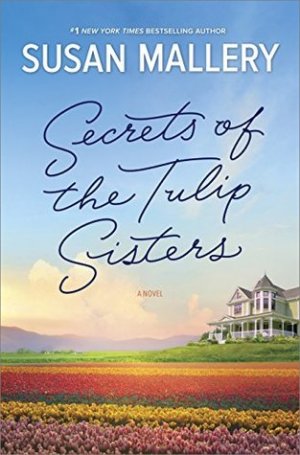 enough for Kelly Murphy. She has an awesome best friend, Helen, who owns the local diner and a bunch of other low key friendships in town. Okay, so she might not currently have a boyfriend. But even though Kelly isn't looking for one, her former high school crush Griffith Burnett being back in town is wreaking havoc on her, as he turns up everywhere she goes. The sudden reappearance of her younger sister Olivia–after a decade apart–also shocks her. All of the guilt and emotions she thought she had put behind her come roaring back, leaving Kelly floundering, wondering if she can make amends with her sister while also dealing with her growing feelings for handsome Griffith.
"I didn't know there would be rules."
"There are always rules, Kelly. The trick is knowing which ones it's okay to break."
Small town Tulpen Crossing should feel archaic compared to Phoenix, but when Olivia arrives back in her hometown, she has the sense that she's supposed to be there for the summer. She's decided to try to fix things with the guy that got away, Ryan Burnett, and see what she can do to patch things up with her family. But things certainly don't go as planned when Olivia takes the first steps to improve her life. And what she thought she was working towards shifts as she realizes she wasn't really even happy in her life back in Phoenix. Could Tulpen Crossing now hold everything she needs to build a happier more honest life? Including a man who blindsides her with his sexy charm and his simple, caring ways.
'She had to win at nearly any cost, all without letting anyone in. Because people who were supposed to love you betrayed you over and over again.'
Talk about a family with some issues. Secrets of the Tulip Sisters was a tangled web of decade old hurt feelings, lies of omission, and strained relationships. But true to Susan Mallery's other work, the heartfelt emotions and awkward, real life–oftentimes funny–moments smoothed the way, making this a joy to read.
'She and Olivia weren't exactly close, but there was potential. Potential and promise.'
You know you're going to get a solid story when you pick up a book by Susan Mallery. That's a given. But what surprised me with Secrets of the Tulip Sisters was that there were actually three romances woven in along with all the family and small town drama. And for me it worked. I have a feeling that some readers might find it all a bit too tangled together but there was an honesty in each character's reactions and decisions that made it okay for me. As always I loved the relationships that Mallery built, tore apart, and ultimately rebuilt as Kelly, Olivia, Helen and the rest of the Tulpen Crossing crew sorted through everything that was going on.
I'll try not to spoil the secrets we learned along the way, but I can say that the hard feelings between Kelly and Olivia were the basis for this book. They had a long road to travel to accept each other into their lives again after how their parents' marriage broke apart and what happened afterwards. I liked Kelly right away and thought she was a straightforward, hardworking, loyal woman who still had a few things to learn about herself. Olivia, well, I had to warm up to her. She started off too much like her mother for me (and I did NOT care a bit for her mom) but as we got more of her history and I saw her really trying to be a better person, I had to cheer Olivia on. Helen was the other female POV we got to see and I adored her. She was Kelly's best friend who had a crush on someone tied into all of their lives which made things more complex. But I loved her spunk, her kind words for her friends, and the way things worked out between her and her beau.
The guys were an interesting bunch this time around, with Griffith, Kelly's love interest being the only male POV we got to see things from. I had to chuckle at his tenacity. Griffith made a point of being wherever he thought Kelly might turn up in town, not really stalking her, just making the best of the opportunities they were given. But he was such a wonderful guy. A little foolish to think his emotions wouldn't play a part in his relationship with Kelly, but a dependable, caring man nonetheless. I can't say the same for his younger brother Ryan who had a thing with Olivia in the past. Again, I won't spoil the details, but I'll leave it that the brothers were sadly really nothing alike. Sven, Kelly's ex, and Jeff, Olivia & Kelly's father, were two other male characters worth mentioning who played big parts in the story. I liked them both but they each had their moment where I wasn't too happy with their decisions and wanted to have a serious talk with them. 😉
Things got messy and complicated but worked out fantastically in the end for this lively cast of characters. With an epilogue worthy of a Hallmark Channel movie, this had all of the tears, anger, joy, and passion one would expect from Susan Mallery's heartwarming stories.

Book Info:

Publication: Published July 1st 2017 | MIRA |
From the No.1 New York Times bestselling author of Daughters of the Bride comes a charming tale about the problem with secrets, the power of love and the unbreakable bond between sisters.
Kelly Murphy's life as a tulip farmer is pretty routine — up at dawn, off to work, lather, rinse, repeat. But everything changes one sunwashed summer with two dramatic homecomings: Griffith Burnett — Tulpen Crossing's prodigal son who's set his sights on Kelly, and her beautiful, wayward and, as far as Kelly is concerned, unwelcome sister. Tempted by Griffith, annoyed by Olivia, Kelly is overwhelmed by the secrets that were so easy to keep when she was alone.
But Olivia's return isn't as triumphant as she pretends. Her job has no future and, ever since her dad sent her away from the bad boy she loved, she has felt cut off from her past. She's determined to reclaim her man and her place in the family…whether her sister likes it or not. For ten years, she and Kelly have been strangers. Olivia will get by without her approval now.
While Kelly and Olivia butt heads, their secrets tumble out in a big, hot mess, revealing some truths that will change everything they thought they knew. Can they forgive each other — and themselves — and redefine what it means to be sisters?
Told with Mallery's trademark heart and humour, the Tulip Sisters are in for the most colourful summer of their lives…