Shooting Dirty by Jill Sorenson: Janelle wants to make a better life for herself and her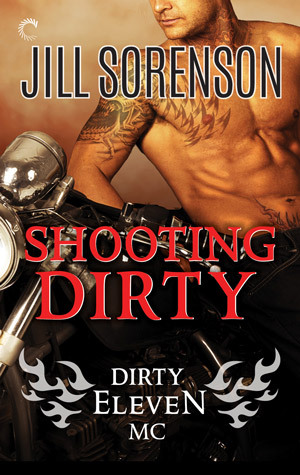 son, but that's easier said than done. She enjoys the dancing aspect of stripping, but she's sick of the customers and wants a respectable job. Ace made the decision to get out of the Dirty Eleven MC, but getting out isn't straightforward. He's still tied to the MC through the one and only person he cares about…his daughter.
On his last job, Ace and Janelle crossed paths. Ace kidnapped Janelle to get to her ex and the experience is one that neither can forget. Ace knows that he's not in the market for a relationship, but he's drawn to Janelle. He is protective and feels responsible for her, so he tends to keep watch over her.
"Are you trying to pay me off?"
"No," he said, appearing disgruntled.
"You think you're my protector now, is that it?"
"Maybe you need one."
"Maybe I need to be left alone."
Janelle has been disappointed by men her whole life and after the disaster that was her ex, she has no interest in getting involved with another bad boy. Ace is a criminal with dangerous ties, but she fantasizes about him in a way she hasn't before. With Ace, she can let go and enjoy herself knowing that she's safe with him.
As their relationship heats up, the conflict between Dirty Eleven and a rival MC also heats up. Ace is stuck between a rock and a hard place where he can't see his way out. Ace has decisions to make when his interest in Janelle could make her a pawn in this war. Ace and Janelle are in deeper than they imagined, which makes it all more complicated.
"Can't you make a deal? Or get some help?"
"No, I can't."
He was independent to a fault. She knew a little something about that flaw, but it was difficult to sympathize with a man so determined to dig his own grave.
Shooting Dirty is an intriguing story with main characters who were dealt a crappy hand in life and are trying to build a better life for their own child. Jill Sorenson created a world where morality is relative and all choices are hard. Ms. Sorenson provided interesting characters and highlighted the love that parents have for their children. Fans of Stephanie Tyler and Vicious Cycle by Katie Ashley will enjoy Shooting Dirty.
Book Info:

Publication: September 21st 2015 | Carina Press | Dirty Eleven #2
She's his only salvation.
Ace Clemmons has wanted Janelle from the moment he first saw her. Taking her captive while he carried out his last hit as a member of Dirty Eleven nearly broke him. Now that he's gone straight, he's back in her life, looking to stake his claim. He can't erase the past but he'll do anything to make it up to her.
Janelle Parker needs a new start, far away from the trailer park and the strip club. A down and dirty affair with a tattooed criminal is a step in the wrong direction, but she can't resist Ace's deliciously commanding touch, which has haunted her dreams for months. Soon they're both in too deep, falling hard and fast—until an old feud with a rival motorcycle club explodes into an all-out war. Dirty Eleven's enemies won't hesitate to hurt Janelle to get to Ace. She has to fight to survive… and for the fiercest love she's ever known.