In The Billionaire's Passionate Revenge  (The Billionaire #3) by Jennifer St.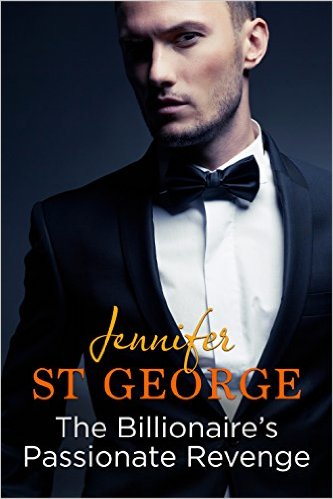 George, heavily in debt and desperate to dig her way out of it, Lady Zara Ravensdale, has decided to run her centuries-old ancestral home as a hotel. When the guest she's been waiting for finally arrives, she's shocked to discover it's Xavier Hunt. The young man that was once her closest friend, before a terrible scandal tore them apart fifteen years ago.
"You know, Zara," his voice was low and deliberate, "there was a time when I thought I knew everything there was to know about you. That we had trust and a bond so strong, nothing in the world could break it." The weight of his words seemed to drive her into the ground. "But I was wrong. My time at Ravensdale Manor, and knowing people like you, taught me a valuable life lesson."
Xavier Hunt knows returning to Ravensdale Manor is going to be hard. As the place holds so many memories, both good and bad. The worst being the scandal that destroyed his life. He won't let anything deter his plans for revenge, not even Zara, the young woman he once loved. Except, she's all grown up and as beautiful as ever, and the more time they spend together, the harder it becomes to ignore the old chemistry. But if she discovers what he has planned for revenge, it could tear them apart forever.
What an enthralling, fast-paced and delightful read this book was right from the beginning, encompassing the second chances trope, a hero out for revenge, and a heroine desperate to get herself out of debt.
"Passion leads to broken vows. Passion leads to forbidden love. Passion leads to ending up dead." She banged the table with the palm of her hand. "Passion leads to a daughter growing up without a mother."
The dialogue was powerful due to both characters back stories, the conflict they face and how it's resolved. What would happen if Zara learned the truth about what Xavier had planned for revenge? Why did someone want to drive these two apart in the past? As the answers unraveled, I was looking forward to how Zara would react. Because it seemed, she was the one those answers would have the most emotional impact on. There was also some playful banter between the main characters, that illustrated how much they still cared for each other. And that a love such as they had doesn't just go away, even after all that had happened in the past.
"Come on," he said, catching the sock one handed and tossing it to the floor. "That's cheating. Socks don't count."
"I can't take off my shirt. I haven't got anything on underneath."
"That's what I'm hoping for," He said.
The blush rushed into her cheeks. "Xavier!"
I really enjoyed both characters. The saying 'opposites attract' certainly applies to them. Their back stories were completely engrossing, and Xavier's need for revenge was understandable. He didn't deserve what happened to him, just because someone didn't want him and Zara to be together. What I liked most about Xavier was his assertiveness. His you-need-to-listen-to-me, or else like approach towards Zara really helped to re-discover the close bond they once shared. While Zara, she was resilient and determined to lessen her debt, so she could hold onto the one place that held a lot of memories – some good, some bad. Of which some memories changed the way she viewed relationships. Not only due to what happened with Xavier, but what also happened with her mother.
She held her hand out for her clothes. "I'm not walking out that door naked."
He held open the door for her but didn't return her clothes. "If I had my way, you'd be naked twenty-four-seven."
Scorching and nicely-detailed sex scenes revealed the couple's intense chemistry perfectly, and even though Xavier wanted revenge, there was no denying that he was still very much in love with Zara and vice versa. Their love was powerful. That no matter how much the scandal and betrayal hurt them; it wasn't enough to destroy what they felt for each other.
Overall, I really enjoyed this story, of which I loved the ending. The dedication to two people important to them both was quite touching, and a wonderful way to bring the deceased couple together again. So they could finally rest in peace, for eternity, in a place that meant a lot to Xavier and Zara. I am looking forward to reading the previous books of this series, and would recommend this, if you love a story where no matter how difficult the obstacles they face are, the couple will overcome them, because they're meant to be.
Book Info:

Publication: September 16, 2015 | Penguin Books Australia | The Billionaires #3
Heiress Lady Zara Ravensdale and Xavier Hunt, the gardener's son, were once inseparable. But before their romance had a chance to bloom, it was crushed by scandal and betrayal.
Xavier is now an international celebrity and sexier than sin while Zara is deep in debt, running Ravensdale Manor as an upmarket hotel to make ends meet. Unable to forget the past, Xavier returns to the manor, determined to exact his revenge on the Ravensdale family – once and for all.
Together again, passions reignite and the old chemistry becomes impossible to ignore. But Xavier and Zara are both keeping secrets and neither can forget their troubled history. Will they be able to uncover the truth of that night or will Xavier's need for revenge tear them apart forever?