Single Man Meets Single Mom by Jules Bennett, is the second part of The Barrington Trilogy and can be easily read as a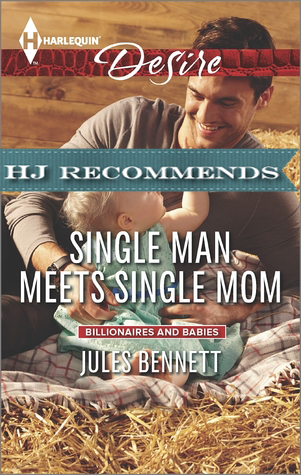 standalone. This series started with with Opposites Attract by Jules Bennett.
Hollywood agent Ian Schaffer and Cassie Barrington first meeting is right out of a Hollywood movie and their instant attraction is just as potent. Cassie's whole world revolves around her daughter and she does not have any time for any kind of romantic relationship especially with some Hollywood hotshot who has commitment issues but Ian's charms are getting harder to ignore and soon she finds herself getting more and more involved with him.
Single Man meets Single Mom is a fabulous romance on the older woman younger man trope. The conflicts and emotions were well described and there was never a dull moment in the book. I loved how the characters meet in the most extraordinary way right from the first line of the story.
Ian Schaffer is a charming and sexy hero who has made his mark in Hollywood at quite a young age. He is commitment phobic and hides from everything that says"vulnerable" or "emotion". His personality went deeper than his playboy persona and that was the best thing about him. Cassie is a single mom who has been through a bad relationship before. The person who was supposed to be her prince charming turned out to be a frog and therefore she is not interested in trusting any other man with her heart again. Both the characters have issues to deal with and they do it so wonderfully with the right amount of passion and emotions.
Overall, Single Man meets Single Mom by Jules Bennett is the book to look out for this month in the desires line. I am sure every desire fan is gonna love this one!
Book Info:

Published September 2nd 2014 by Harlequin Presents
From player to…daddy?
Hollywood agent Ian Schaffer could have his pick of gorgeous women. So he's totally thunderstruck by the intensity of his attraction to horse trainer Cassie Barrington. The single mom, with her luscious curves and unadorned beauty, is so much hotter than the bombshells he's used to. But it's her vulnerability and passion that the jaded player finds utterly irresistible—and that sets off alarm bells, because Ian's as commitment-shy as they come. A woman with a child is absolutely off-limits! Too bad the voluptuous mom has Ian aching to break all his old rules…