So Screwed by Melissa Marino: Abel has been chasing Evelyn since the first time he saw her, but she won't give him the time of day. No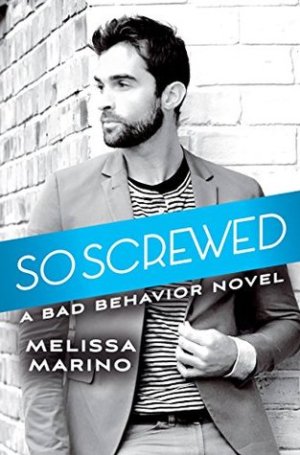 matter how charmed she is by his smooth-talking ways and gorgeous looks. She's promised her best friend Callie, who's dating Abel's brother, that she wouldn't go there, plus, Evelyn is work first and no way will she let a man get in the way of her ambitions.
But when the passion erupts between Abel and Evelyn, neither wants to escape it and instead they delve deeper into one another. Evelyn isn't so sure she can trust this consummate ladies' man, not when she's falling hard than she ever expected.
And when Abel begins keeping secrets during a three month work trip Evelyn needs to take, Evelyn's previous doubts may appear to have been right.
"You won't find any other girl with it. I'm the one and only."
He leaned up and gave me a peck on the cheek before wrapping me up in a hug. "One and only is right," he whispered.
My bullshit meter went off.
I quickly told it to shut the fuck up.
First entering the story I liked what I read. Abel was hot, Evelyn was strong and interesting. But soon enough it just fell apart for me. Abel isn't much of a hero for me. I like that he definitely had to grow during this story and find himself, but overall he felt far too insecure, and honestly, I didn't see what was so suave about his lines – beyond the fact that they came from a pretty face.
Evelyn I liked more than Abel, but even she was particularly interesting. Her issues were more repetitive and shallow. I never understood her background or issues, the past love who ruined her. And compared to Abel's arc, Evelyn fell flat.
The second in a series, it can be read as a standalone, but just to get all the comments made about the previous relationship I'd start at the beginning. For those who love the player story, without the jerk aspect that's so popular nowadays, I would recommend So Screwed by Melissa Marino.

Book Info:

Publication: March 7, 2017 | Forever Yours | Bad Behavior
He's charming, wicked, and handsome . . . and she needs to stay away
For Evelyn Owen, work comes first. Being a wedding planner to the city's elite fills her nights and weekends, and she doesn't have time for distractions. Especially in the form of a sexy bartender with killer dimples . . .
Abel Matthews knows how to serve the ladies. But lately, the only woman he wants is just out of reach. That's because Evelyn has already been warned about his playboy ways. Still, there's something about her that makes Abel want more than a quick fling.
Evelyn knows that she shouldn't trust Abel. Yet she's seen a side of him no one else knows, and she can't turn away. But Abel is hiding something from her . . . and if he doesn't confess soon, it will tear them apart.