Summer of Love by Katie Fforde: Ever since Sian found out she was pregnant with her son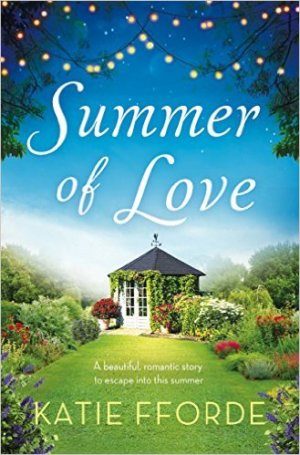 Rory, she has lived a perfectly pleasant, and perfectly safe, life. But that's about to change when she moves to the small town in the English countryside at the bequest of her good friend, and would-be husband, Richard.
Little does she expect Rory's father, her one night stand, Gus to show up at a dinner party and turn out as the son of her new friend and neighbor. The physical attraction is as strong as ever, but since that night Sian has promised herself the safer route to make sure all will be good with her son and she's not so sure she can trust Gus to be stable. Not when he's spent his life exploring the world and finding exciting new adventures.
As Sian keeps the truth from Gus and Rory, she has to choose what's safest for her son, and what her heart can handle.
"No need to be scared, you've got me to protect you."
"And the tarp."
Gus gave a low chuckle. "Oh yes, and the tarp."
Definitely a sweet story, slow and easy, I did mostly enjoy it. But I had a large issue with two aspects. First, her keeping Gus in the dark about his son. I understood her reasoning, but it was not okay with me at all. I'm happy at least it didn't last the whole story. Also, her stringing along Richard. She wanted to choose him, but her heart wouldn't let her. I just didn't care for her emotional confusion because it feels like she'd given Richard a slight opening for years.
Otherwise, I loved Gus. He was a sweetheart and fun, and I just wanted him to get the girl he was so obviously chasing. He is the adventurous, boyish hero. New to fatherhood, but grasping onto it with excitement — at least towards Rory. He certainly had his anger towards Sian. But, of course, the worked past it.
I prefer passionate, and I would call this a little too slow very much a British style. If you love the sweet stories with an adorable young boy, I recommend Summer of Love. Plus, you get to watch Gus's mom, the loveliest lady, go on some horrific blind dates and find her own adorable love.

Book Info:

Publication: July 8, 2016 | Bookouture |
Sian Bishop has left the hustle and bustle of the city to throw herself into an idyllic new life in a charming countryside cottage.
With her young son, her picture-postcard garden and her furniture restoration business, she's very happy and very busy. She is not – repeat not – looking for love.
But Sian's good intentions are torpedoed one glorious summer's evening with the arrival of Gus Berresford. One-time explorer and full-time heartbreaker, Gus is ridiculously exciting, wonderfully glamorous and a completely inappropriate love interest for a single mother.
But she and Gus have met before. And, despite Sian's best intentions, it isn't long before she's falling for him all over again …