Summer on Lovers' Island by Donna Alward is the third book in the Jewell Cove Series. Even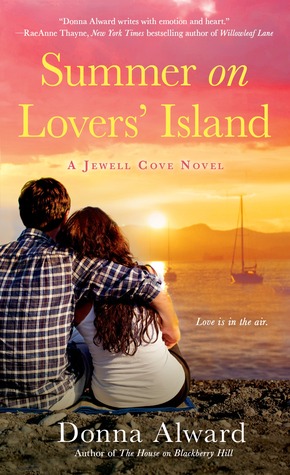 though it is part of a series it can be read as a stand alone book. This is the story of learning to trust yourself, learning to trust others, learning to believe in love and finding out who you truly are.
Dr. Lizzie Howard's life is spiraling out of control. She has lost her father and mentor to a sudden stroke. She is slowly losing her mother to Alzheimer's, she has lost her position as an ER doctor due to a freak accident, she has broken up with her boyfriend/boss, and she is slowly losing her confidence in her abilities. When her best friend Charlie calls her to Jewell Cove to cover her maternity leave, at first Lizzie is hesitant, but the longer she is in the sleepy little fishing town, the more she begins to like the idea of having a slower schedule and a semi-vacation. What she is not to keen about is the handsome doctor running the practice and how just being in the same room with him makes her want to repeat old mistakes.
Dr. Josh Collins is a former military doctor, returned home to Jewell Cove after the death of his wife. His family keeps wanting him to move on, find love and happiness again, but if they only knew the truth about his marriage to begin with, they would be shocked and saddened for him. No one to rock the boat, Josh keeps his families demands at bay, always one to make sure that everyone else is taken care of and not wanting to burden them with his sordid past.
It is surprising to Josh and Lizzie that they find it so easy to support and be a sounding board for each other. When they decide that they want to try to have a summer fling, no strings, no one gets hurt, they can't seem to take the steps forward without getting tangled. These two doctors with trust issues and painful pasts will need to learn to open themselves up to the possibilities before they slip through each others fingers and they lose the best things that could have ever happened in their lives.
I loved Josh and Lizzie. They are both such wounded souls. Josh living with the knowledge that his wife was never in love with him, was in fact in love with someone else, someone close to Josh. Lizzie living with the knowledge that she has huge expectations on her to fill her brilliant father's shoes and be the best ER doctor around. Both are afraid to be hurt, to hurt each other. Yet they are so perfect for each other, despite the pain and the uncertainty they are simply perfect for each other.
Their friends and family are funny, and supportive and at times like to play matchmaker. But they are close knit and loving and prove time and again that they have each others backs. I loved everything about the sleepy little town of Jewell Cove and will definitely go back to read the other books in this series. I recommend this book to anyone that loves a great second chance at love story set in a small town.
Book Info:

Published May 5th 2015, St. Martin's Paperbacks | Published May 5th 2015
Lizzie Howard's life is close to perfect, until her father's death brings her world crashing down around her. With her reputation and heart in tatters, she reluctantly agrees to temporarily take over her best friend's practice in scenic Jewell Cove, Maine—a position that's a world away from the high pressure career she once loved.
Josh Collins is no stranger to pain. After losing his wife, he moved home looking to start over. One of two doctors at the town clinic, his sleepy coastal practice is just what he needed. Until Lizzie Howard arrives. Lizzie is everything Josh wanted to get away from: brash, ambitious and not interested in a quiet life in a quiet town. But as the sparks fly between these two doctors, they realize that sometimes opposites really do attract.