In Texting Under the Influence by Cara Lockwood, Jenna Cho can't help but be upset over her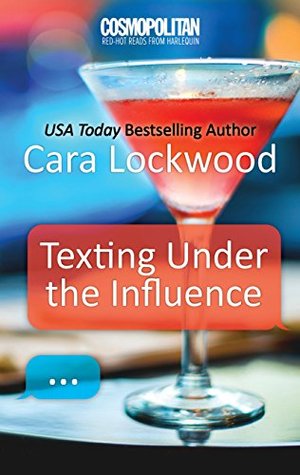 latest breakup with Jax, the cheater. He may be a hunk with washboard abs, but he's proven himself to be a serial player. Wasting a year of her life with an on-again-off-again relationship tying her down has to stop. So trying to keep her best friend's advice in mind, Jenna tells herself she's over Jax and that she deserves better.
"I've had…what do you call it? A crush? Well, I've had it on you for ages."
Jenna went stock-still. Her boss had the hots for her? Since when?
Jenna does well until she downs a few drinks at the local bar and decides to text Jax for one last night together. Only it's not her ex she texts. It's her boss Jack. Her very sexy Irish boss, who, as it turns out, has had his eye on her for some time. Knowing it's probably the worst idea in the world, Jenna takes the opportunity to have a steamy night with Jack. But when it's over, she's not sure she wants to let go of the charming man who makes her feel wanted and protected.
"Am I, then? You think I'm gorgeous?" His blue eyes lit up as he relished taking the upper hand.
Jenna felt flustered and hot. "Everyone does! Don't you see how the women in the office stare at you? And some of the men, too."
Jack shrugged. "I only pay attention to the woman I'm interested in." She felt the weight of his gaze, then the seriousness of it.
Texting Under the Influence shows us what happens when a sexy (drunken) text accidentally sent to Jenna's boss turns into the the wildest, most sensual hook-up of her life. And then some! What a fun premise, right?
Author Cara Lockwood wrote this novella-length story as not only a sexy escapade between a boss and his employee, but also as a soul-searching look into what would make both characters happy and feel fulfilled. Obviously, where this was not a full-length novel things moved along at a pretty quick pace. But I thought there was still just enough character development and enough of a solid plot that it wasn't an issue. I still had a good sense of who Jenna and Jack truly were and thought things ended exactly as they should have.
What is it about charming Irishmen? Jack was such a sexy, fun guy. Okay…he had a habit of being too intense, falling into love very quickly and easily. And he was a bit spoiled, with his sleek BMW, his big townhouse, and going to five star restaurants. But I thought Jack was perfect for Jenna. He was head over heels for her and he knew it was different this time. It was entertaining to watch him try not to push Jenna too far too fast, but then he'd almost slip up and confess his feelings. Poor guy…
I really grew to like Jenna. She was stuck in an emotional loop with her ex Jax, who was a definite player. I kind of wanted to shake her a few times at the beginning when she fretted over taking him back, but she thankfully stood up for herself and began to realize how strong she truly was. Jenna's best friend and Jack helped her, of course. Seeing her blossom under Jack's attention and true affection was a wonderful thing to watch, and I loved how comfortable they were together while still having crazy chemistry.
How can a short story be anything but enjoyable when it begins with a mix-up of epic proportions and then quickly transforms into a passionate whirlwind romance between a boss and an employee? I think Texting Under the Influence would be perfect for a quick beach read this Summer.
Book Info:

Published May 12th 2015 by Cosmopolitan Red-Hot Reads from Harlequin |
I Know You Want Me…
One last hookup. At least that's what graphic designer Jenna Cho has in mind when she texts her toxic-in-life but amazing-in-bed ex, Jax. When her gorgeous boss Jack responds to the booty call instead, Jenna learns exactly why a girl should never hit send after one too many vodka sodas. Still, faced with Jack's sexy grin and even sexier Irish accent, Jenna thinks maybe she messaged the right man after all—especially when he admits he's been hoping she'd make the first move…