Take a Chance on Me by Jennifer Dawson: Maddie Donovan is sick and tired of having everyone else decide how her life is going to go. She knows it's the worst timing ever, but at least she's leaving before she says 'I do'. She and Steve had been together since she was 15, but that's just not a good enough reason to get married. So she jumps into her car and drives until it craps out in the middle of nowhere. With nothing but the clothes on her back and fifty bucks in her tiny purse, she walks five miles to Revival and the dive bar inside the city limits.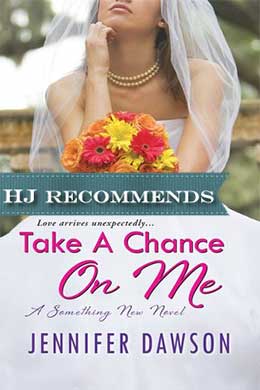 Mitch Riley has no idea that his day was going to get this interesting. This waif totters in on her high heels looking like a refugee from some bridal catalog, sidles up to the bar, tosses a wad of cash down, and orders three shots and a glass of water. Who is he to turn her down. Well, apparently Mitch is. After a couple of the drinks make it into her system, it's apparent they land on an empty stomach. His white knight instincts kick in, and the next thing you know, he's got her staying with him and having her car towed to the local shop.
To say Maddie's inexperienced is putting it mildly. Oh, she had a wild child phase, but since the accident that put her in a coma and killed her father, she's settled – and that settling included staying with one guy until now. But seeing Mitch behind that bar and knowing she wasn't attached was a whole different story. And this guy – this very dangerous, dark, tattooed guy – was making it clear that he thought Maddie was sweet enough to gobble up.
But they both have their secrets. Pretty dark secrets to tell the truth. And they do – tell the truth that is – to each other. And once they open up and start to trust, how much will it hurt when one of them breaches that?
I really enjoyed this story. All the characters were vivid and enjoyable to get to know. The people of Revival especially. I suppose I will never understand what the deal is with Steve – if you can figure that dude out, let me know.
One thing that bothered me, and it's what stopped me from grading it higher, were the loose ends left in the blackmail story. I don't want to give anything away – so I'll leave it at that. However, I do know that this is the first in a series, and there's a tease for the second book that seems to include a further look in that direction, so I'll be reading the next installment. I wish that the lead characters in that book had been featured a bit more here, but I'm sure we'll get to know them soon enough.
A very strong debut for Jennifer Dawson. Can't wait to read more in the "Something New" series.
Book Info:

Publication: February 4th 2014 by Zebra
Gorgeous runaway brides. . .
When Maddie Donovan runs out on her high school sweetheart moments before walking down the aisle, she ends up at a bar in the small town of Revival, Illinois, with only the wedding dress on her back, fifty dollars to her name, and her "good girl" reputation in tatters. Not ready to return to Chicago and face the music, she accepts hot bartender Mitch Riley's offer to stay at his place. But sharing such close quarters is driving Maddie insane with desire.
Always drink for free. . .
Mitch thinks he's seen it all—until Maddie strides into his bar in full wedding attire and downs three shots of whiskey. Though the gorgeous knockout seems tough as nails, he also senses her vulnerability. With a troubled past of his own, Mitch has no interest in ties of any kind—yet he can't help falling for Maddie. Now he's got to find a way to convince her to give love a second chance.