In Take Me, Cowboy: A Copper Mountain Rodeo Novella by Jane Porter, Jenny Wright has become a successful executive assistant in Chicago, overcoming a childhood of poverty and family discord back in Marietta, Montana. The icing on the cake? Her upcoming marriage to businessman Charles Montmouth III. Jenny will finally have stability and financial security for the first time in her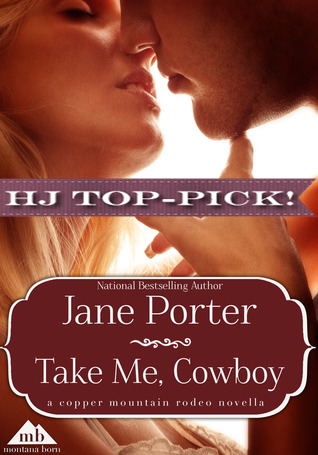 life. Then Charles pulls the rug out from under her by leaving her at the alter.
'She wasn't a nice girl. She didn't want to be treated like a nice girl, either. She wanted to be the girl who slept with bad boy Colton Thorpe.'
Then Jenny's knight-in-a-rusty-pickup-truck Colton Thorpe drives her home and works his way under her skin. The teenage crush she had on him comes back with a vengeance at the most inopportune time. Neither Jenny nor Colton are looking for a relationship, but fate keeps pushing them together. Should she give in to her attraction and have a night of passion with the cowboy while she's in town for a few days? Or could it lead to more heartbreak?
"Darlin', not a hero. Not even close," he protested, before giving the leather bench seat a light pat. "But hop in, and I will get you safely home. I may not be a hero, I can at least pretend to be a gentleman."
Traveling home is always bittersweet for professional bull rider and national rodeo champion, Colton Thorpe. He loves his family, but he doesn't want to be tied down to Marietta, Montana any longer. Growing up on the wrong side of town, Colton has done well for himself over the years in everything except love. But when he spies 'princess bride' Jenny fleeing the church, he is instantly attracted to her. And, oddly, feels protective of her. Colton knows he should steer clear of the beauty, but seems unable to listen to his own warnings, and soon may be in too deep to say goodbye.
Take Me, Cowboy is a sweet, heartwarming novella from the Copper Mountain Rodeo series by the very talented Jane Porter.
I loved the writing style. It had a nice flow to it and was very descriptive, setting up each scene perfectly. The dialogue switched smoothly from flirting to divulging raw emotions and back again. The characters were well developed and even though it is a novella, I still felt like I understood Colton and Jenny's personalities. I do wish/hope we will see more of them in the future…
It felt like Jenny and Colton were kindred spirits in a way. They grew up in the same town, literally on the same street, and knew the stigma attached to being poor. Colton was a few years older, but they both left town as soon as they graduated to try to make a success out of their lives. And most importantly, Colton and Jenny had been hurt romantically so they were both leery of getting burned again.
I highly recommend reading Take Me, Cowboy if you have a couple hours to spare for this romance! I think you'll fall in love with Jenny and Colton just like I did.
Book Info:

 Top Pick
Published October 29th 2013 by Tule Publishing
When Jenny Wright's fiancé leaves her standing at the altar in a Vera Wang bridal gown she can't afford, she's humiliated and heartbroken. To have Marietta hero bull riding champ Colton Thorpe witness her shame – makes the rejection even more devastating.
Jenny and Colton grew up in the same rough neighborhood and they both left home right after school to pursue big dreams. Now they're both back, with Colton as the celebrity chair for the 75th Copper Mountain Rodeo, and Jenny in disgrace.
Sexy, rugged Colton didn't get to be a national champion by chance. He's a man that takes risks and goes after what he wants. During the rodeo weekend, Colton makes it clear he wants Jenny. Flustered but flattered, Jenny finds it difficult to resist his charm. But what happens when the rodeo ends and Colton leaves town? Will she dare to dream again?