An Enticing Debt to Pay by Annie West: Someone is stealing money from Jonas Deveson. When his accountant brings the theft to his attention, he knows exactly where to lay the blame, on his father's mistress and former housekeeper, Sylvia Ruggiero. Jonas tracks Sylvia down to Paris, hoping to extract his revenge on her for stealing the money, and ruining his family. The only problem is when he arrives, Sylvia isn't there.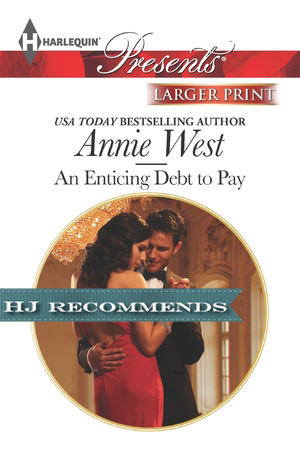 Ravenna Ruggiero sent her mother off to Italy to rest while she finishing packing up the apartment Sylvia shared with Jonas' father. When Jonas bursts in and accusing her mother of theft, she has to tell him that she took the money. She doesn't have to tell him that she's been convalescing in Switzerland and had a really good reason for needing that money.
Jonas won't be satisfied until he has extracted his pound of flesh from Ravenna. He sees Ravenna as a gold-digger, just like her mother, and knows exactly what punishment he will mete out to her:
'As well as renovation work, the Hall needs to be cleaned from top to bottom. Scrubbed till it shines.' 'You want me to be part of the crew that–' 'Not part.' He shook his head slowly, his smile growing. 'You'll be it. Personally responsible for getting the place ready for the ball I'm hosting to celebrate the halls reopening.'
Jonas thinks that the hard labor involved in restoring his family home will be punishment enough. But he can't deny the attraction simmering between them.
"It was the pain that had lured her close, casting aside caution. But it was something else that kept her here. Not the taut clench of his thighs that stoked delicious awareness of his masculine strength. Nor the arm wrapped possessively around her back…Instinct, and the knowledge she'd gleaned of his pride and self-possession, told her she was safe. If she wanted to be…The truth struck her like a flare of lightning, illuminating what she'd tried to hide. She didn't want safety."
The passion between them, along with Ravenna's hard work in restoring Deveson Hall, cause Jonas to question his conclusions about the beauty. Did Ravenna really steal from him? Why did she do it? What was it about her that stirred his blood so much? Perhaps she was only pretending to be different from the conniving woman he'd expected. If she was, he was in danger of falling for her wiles.
An Enticing Debt to Pay by Annie West is a steamy read filled with deception and surrounded by the misdeeds done in the past. Sylvia's relationship with Jonas' father has as much to do with the difficulties Jonas and Ravenna face as the theft of the money from one of Jonas' accounts. It's abundantly clear from the beginning what has happened and who's to blame, if anyone, and it's equally clear that it will take a long time to get it through these two character's heads that everything has changed. The past plays such a crucial part in this story that it makes one wonder how much of a part the past may play in one's own life.
Annie West has created two characters that the reader can sympathize with–two people still under the influence of a shared past that they see from different perspectives. Despite the past, both Jonas and Ravenna are well-rounded characters in their own right: Ravenna's steely determination to take everything Jonas dishes out and serve him some of her own dishes is exactly the spirited response needed not to be steamrolled under Jonas' overwhelming aura of power and control. The tension, the passion, and the conflict makes for an exciting read.
The only drawback to a story An Enticing Debt to pay is that you know what's really happening so early on as a reader, you are left screaming at the characters, yelling "Figure it out already!" at your kindle or paperback. It's hard to decide sometimes if this is an advantage or a drawback because a little frustration with a book can be a good thing if it keeps you turning the pages to see how it all works out. After a couple of huffs, I think most readers will turn those pages and keep diving back in.
An Enticing Debt to Pay by Annie West combines strong willed characters from the opposite sides of the same past with red hot passion that supersedes their differences. It keeps the melodrama to a minimum and the action spicy, making it a quick, fun read for a chilly autumn afternoon.
Book Info:

HJ Recommends
Published September 17th 2013 by Harlequin Presents (Book 3181)
Dial R for Revenge…
Forgiveness is a foreign concept to wealthy investment trader Jonas Deveson. Someone has been stealing from him. He's got a good idea who it is and she's going to pay….
Seeing the harsh lines that bitterness has carved into Jonas's handsome features, Ravenna Ruggiero knows he'll never see the shades of gray in her actions.
Jonas blackmails Ravenna into working as his housekeeper to pay off her debt, but living under the same roof leads to unexpected yet forbidden temptation, and Jonas is no longer sure who is being punished!