Taming Her Tycoon by Yahrah St. John captured my interest right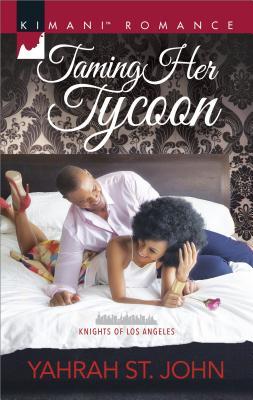 away with its gorgeous cover and then kept interest with its intriguing characters.
Naomi Brooks made her business out of selling organic products out of her basement, with her best friend, Kelsey. Lucius Knight is planning a takeover and will do anything to acquire the company. Back in high school, Naomi had a big crush on Lucius and because of this she isn't immune to his charms and Lucius has no issues using this to his advantage.
Lucius's playboy status speaks for itself and he has no intention of settling down with one woman. Naomi is no longer the awkward teenager he remembers instead, a successful businesswoman has taken her place and to say he's attracted to her is an understatement. Lucius knows how to turn on the charm and plans to do exactly that in order to get Naomi's company. He's been buying up shares and even though Naomi has no intention of giving into him, there are other ways to get what he wants.
"I see you very clearly, Lucius. And I won't be played."
"Yes, I'm relentless when I want something, but one doesn't negate the other. It doesn't mean that I don't find you desirable and want you in my bed."
"There!" She pointed her index finger at him again.
"You're doing it again. Trying to seduce me."
"I don't have to try."
Will Naomi continue to deny their chemistry even though her body is begging for him? And once Lucius gets what he wants will he discard Naomi without a thought?
I liked Naomi's character, but I didn't love her. She's a smart woman who made her dreams come true, but when it comes to Lucius, she loses her senses. Many, many times she points out his playboy status and brings up other women, which was a bit too much and made her look insecure and jealous. This was before they even hooked up. This was my only complaint throughout the story.
As for Lucius, there are reasons he's the way he is and once the truth comes out about his family, it's easy to sympathize with him. He's not a bad guy and his intentions toward Naomi change very quickly for someone who enjoys his playboy ways. Overall, this was a good read with solid characters, well-written words, and an enjoyable storyline.

Book Info:

Publication: December 20th 2016 | Harlequin Kimani |
She's the ultimate temptation
In high school, Naomi Brooks had a major crush on Lucius Knight—much like every other girl. So it's oh-so-satisfying to have the sexy corporate raider eager to buy her organic-products company years later. This man doesn't know how to lose. And he's making it clear that he wants Naomi's business as well as her body…
Even when Naomi was a rough-and-tumble tomboy, Lucius was drawn to her. Now that she's bold, sexy and confident, she's even more alluring. He's willing to play dirty to convince her that a liaison can be mutually beneficial in and out of the bedroom. But that gamble, and an explosive family secret, might cost him the only conquest that truly matters: her heart.